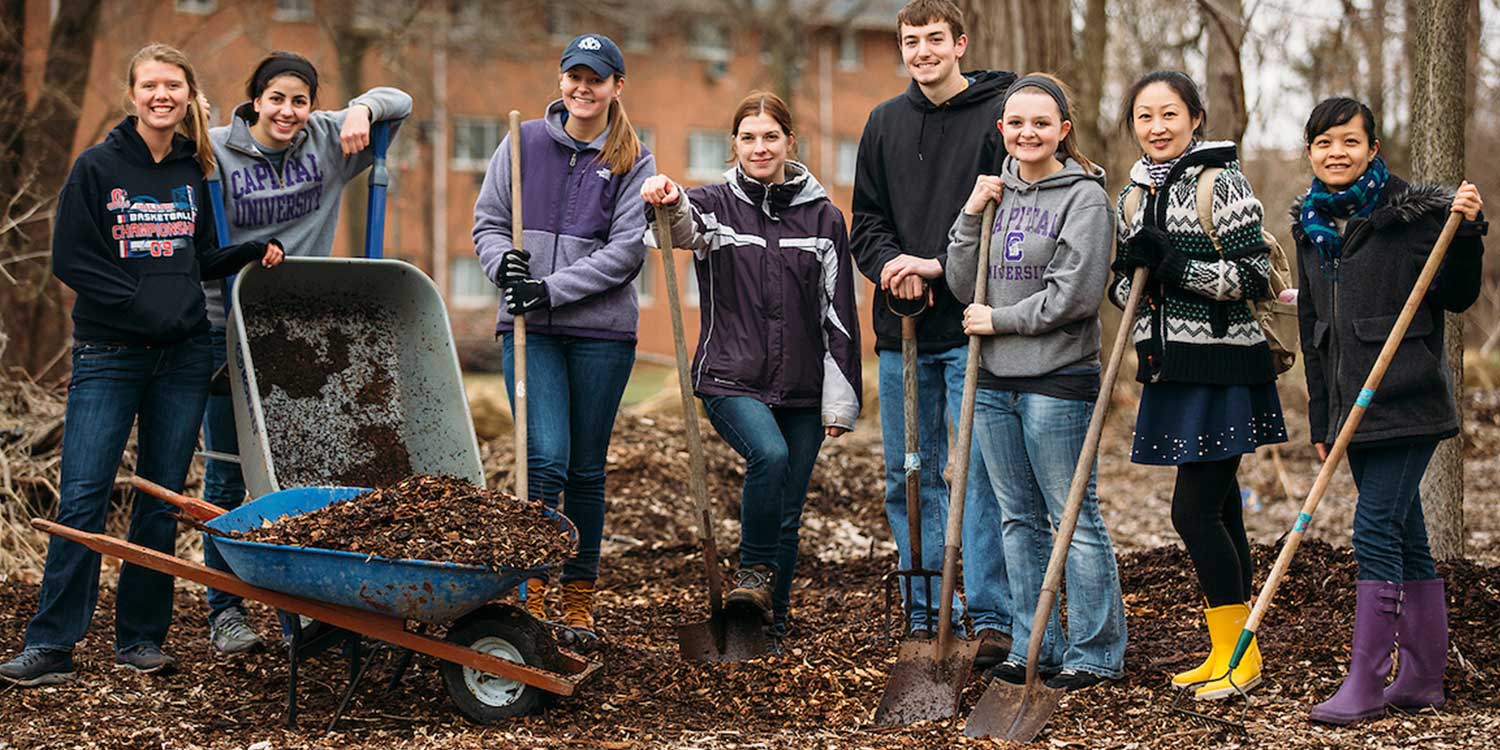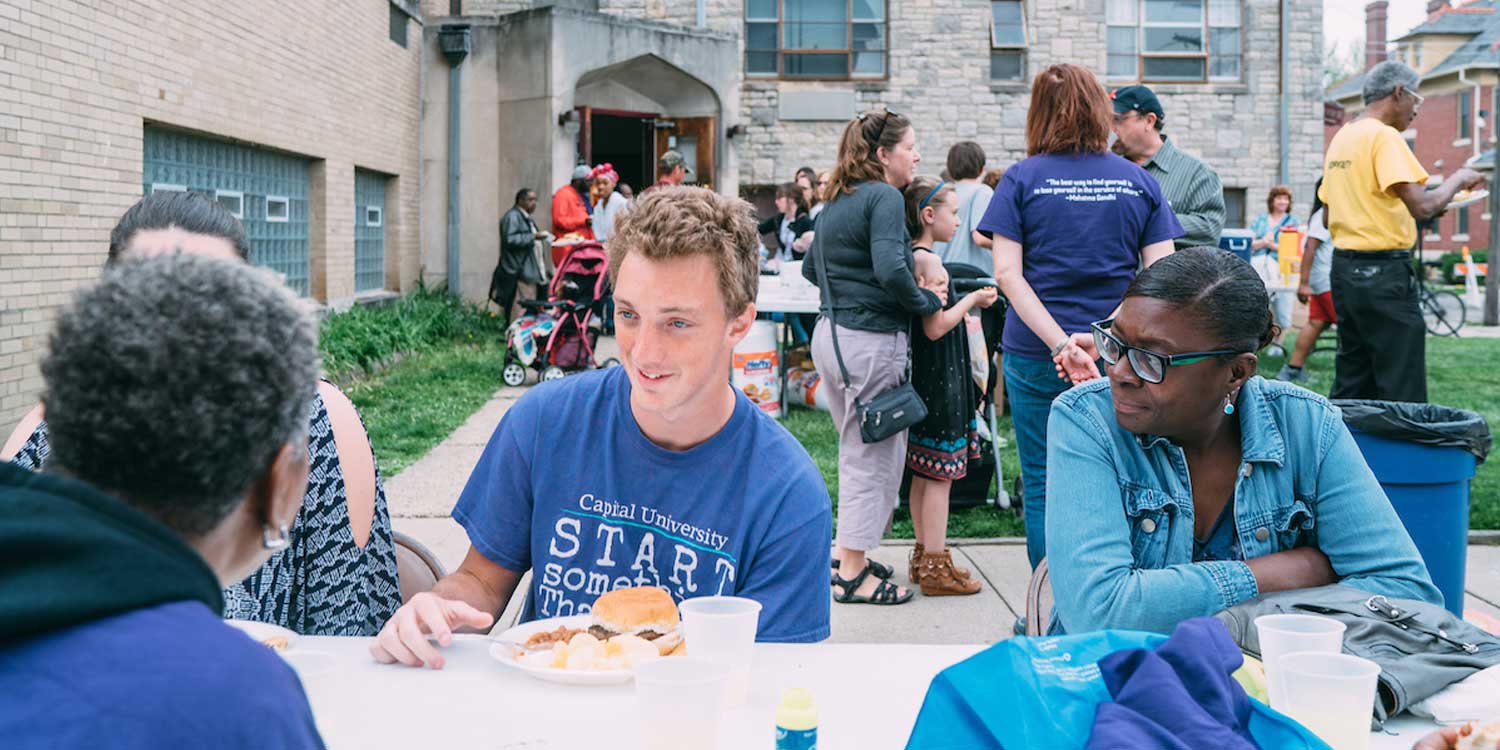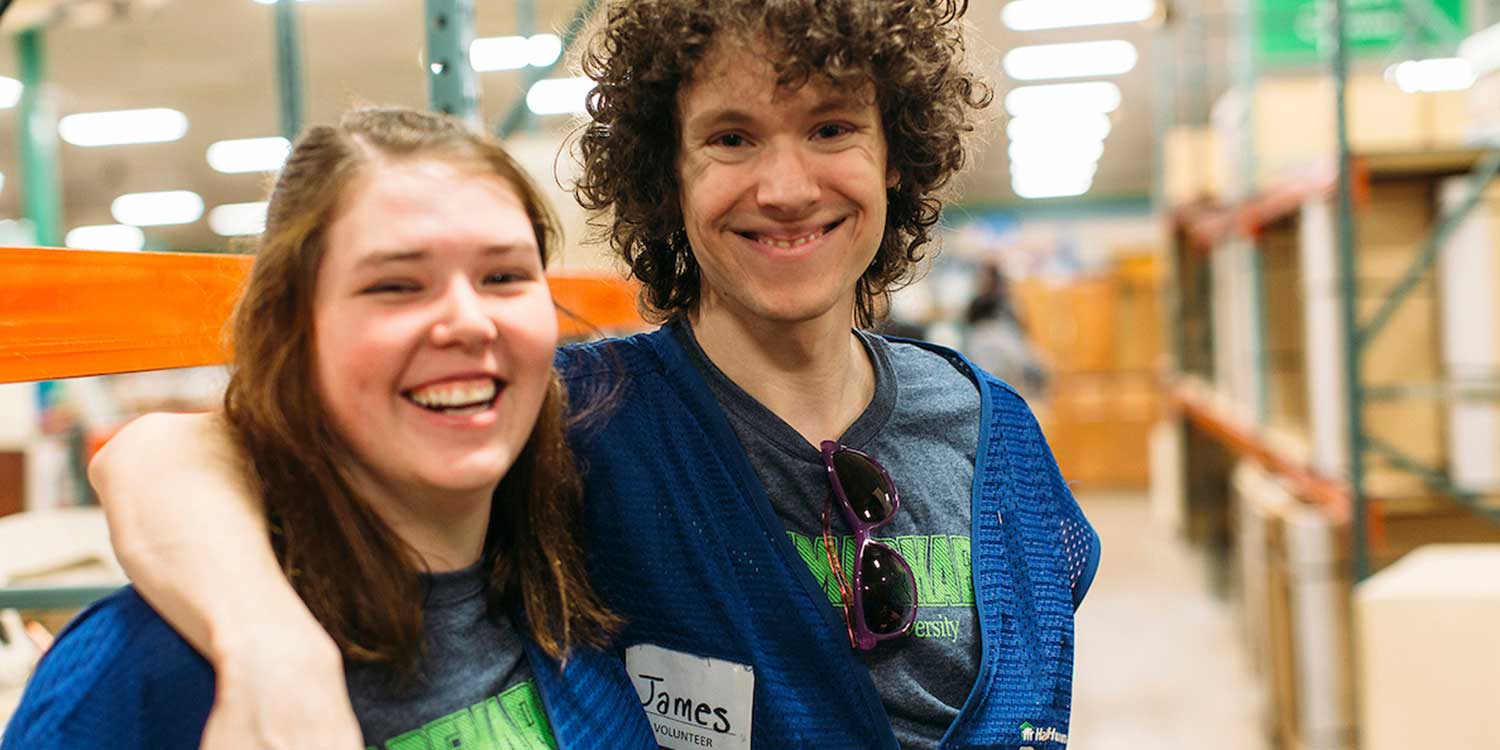 Bonner Leader Program
The Bonner Leader Program extends and deepens Capital University's long history of community engagement and social justice.
Belong. 
The first of its kind in Central Ohio, Capital's Bonner Leader Program connects Capital University and Columbus to a national network of colleges, universities, and communities. This program, designed to similar to the work study model, is dedicated to providing students the opportunity to attend college with the opportunity of elevating their educational experiences in environments outside of the classroom and while simultaneously working with different community members to improve the quality of communities around them. 
Begin.  
Capital's Bonner Leaders are guided by a multiyear curriculum and placed in local nonprofit organizations. These extensive and sustained partnerships provide students with meaningful opportunities to acquire real-world problem-solving skills and position them for fulfilling careers and lives of impact. Above all else, these opportunities brighten, lift, and build the capacity of others. 
During their first year, Capital Bonner Leaders focus on community service and participate in a local community-engaged learning trip.
As sophomores, they either travel to another participating Bonner school to participate in a shared-service initiative, or they participate in an on-campus Sophomore Leadership Conference. The sophomore cohort also spearheads Barriers to Success, the program's racial justice initiative. 
Juniors focus on promotion of on-campus community engagement through service. An international service trip is a possibility during the junior year.
Seniors complete a Capstone project focusing on a capacity-building event or civic engagement activity. 
Schedule permitting, Bonner Leaders should be expected to declare a Social Justice Minor.
Become.
Capital University has always strived to be a place for students to belong, begin, and become. At the heart of Capital's Bonner Leader Program is the belief that institutions of higher learning play a vital role in nurturing and mobilizing thoughtful, caring, and diverse leaders dedicated to solving challenges in our community.
Hallmarks of the Bonner Leader Program
In 1990, the Bonner Foundation launched the first Bonner Scholars Program. Designed to provide students with "access to education and an opportunity to serve," the program has grown to become the largest privately-funded, service-based college scholarship program in the country. Though some colleges and universities' Bonner Programs provide scholarships for those who demonstrate high financial need, it is different with Capital University's program. The Capital University Bonner Leader Program has adapted a work study model and Bonner Leaders earn stipends. 
The hallmarks of the Capital Bonner Leader Program, include:  
Attracting and providing a purpose-driven college education for students who have a demonstrated interest in community engagement and social justice.
Engaging student talents and leadership in brightening lives and strengthening communities.
Building the skills and commitment to continue to be lifelong agents of community development.
Developing life and professional skills that are broadly transferable in living, working, and leading.
Becoming part of a diverse national network of individuals and organizations through which students will learn and grow
Energizing a culture of community engagement, inspiring and engaging many in making significant contributions in the local community.
Distinguishing Capital graduates as effective problem solvers, big-picture thinkers, and transformational leaders.
Become a Capital Bonner Leader
Prospective Capital University students can access the Bonner Leader application through their accepted student portal. Applications will be closed at 5pm on July 1, 2022. 
Capital Bonner Leaders are expected to:
Perform 280 hours of service each academic year (8-10 hours a week)
Maintain a GPA of 2.5
Participate in a student developmental model that challenges and supports each leader to develop his or her skills, knowledge, commitments and responsibilities 
Attend regular group reflection, enrichment, skill and leadership development activities
Complete at least one full-time, service-oriented internship during the summer during the undergraduate career.
For more information about Capital University's Bonner Leader Program, contact Tristen Davis at tdavis3@capital.edu or call 614-236-7126.
American Electric Power Foundation supports Bonner Leaders
A vital component of the Bonner Leader Program is financial assistance. Capital University has received support for Bonner students through the establishment of the American Electric Power Bonner Leader Fellowship. Through a $500,000 endowed gift from the AEP Foundation, Bonner Leaders receive four years of financial support toward their classroom studies and their commitment to becoming future community leaders. 
"AEP is proud to partner with Capital University to provide opportunities to these impressive students and future leaders," says Nick Akins, CEO of American Electric Power. The AEP Foundation's mission "to support and play an active, positive role in the communities where we live and work" is evident in its support for improving lives through education – from early childhood through higher education.
Barriers to Success
In Spring 2022, the Bonner Leader Program at Capital started a racial justice initiative titled Barriers to Success. This initiative seeks to achieve two goals; promoting social justice through an on-campus education series, and through creating and implementing a college readiness curriculum with a Columbus City high school and alleviating some barriers to pursing a higher education through . Barriers to Success is spearheaded by the Sophomore cohort. Barriers to Success will be implemented through a series of events that will be bring together students, faculty, staff, and a multitude of community members in efforts to advocate for equal opportunity and eliminate barriers to achieving success.
The Education Series schedule is as follows:
September 2022: Introduction to Barriers to Success
October 2022: Allyship vs. Advocacy vs. Activism
November 2022: Exploring Equitable Sustainability in Human Resources
To learn more about the Barriers to Success, please follow @barrierstosuccess on Instagram.