Vivid colors, defined lines, and messy textures fill the halls of countless galleries and schools. From professional to amateur, artists use paper, paint, clay, fabric, or even digital screens to create pieces that mirror the societies that they were created in. Through Project Indigo at Capital University, students have the ability to access a digital medium that otherwise may have been just out of reach.
Starting in spring 2021, incoming and returning students, staff, and faculty were given an 8th generation Apple iPad and a first-generation Apple pencil. Uploaded with a library of apps designed for use both in and outside of the classroom, the provided technology is just one step in Capital's equal access to education commitment.
Maxwell Zawatsky plans to graduate in 2022 with a B.A. in Studio Art. His goals include pursuing an M.F.A. in painting and drawing, only recently integrating digital art into his practice.
"Before coming to Capital, I didn't have the money to pay for the Adobe Cloud, and I never thought I could just do what I do on paper on the iPad," said Zawatsky. "When I saw digital art, I thought there's all these layers, color theory, and knowledge of coding and technology. I always thought that's not for me."
A 2021 Boyd Fund for Undergraduate Scholarship recipient, Zawatsky has now incorporated his iPad into his daily art practice. Adobe Fresco, an app provided through Project Indigo, continues to be his primary app whether he is creating pieces for his graduate school application or drawing models in his Life Drawing course.
"I'm having a lot of fun right now with digital drawing," said Zawatsky. "I was getting complacent over the summer in how I created art. Sometimes as you artist, you just need to get kicked in the butt and expand how you make art."
Whether a student has had access to an iPad for six years or six months, Project Indigo has ensured that Capital students have the opportunity to gain knowledge by breaking down technology-based barriers.
A December 2021 graduate in Studio Art, Kayden Hauke has been using digital art in his practice since his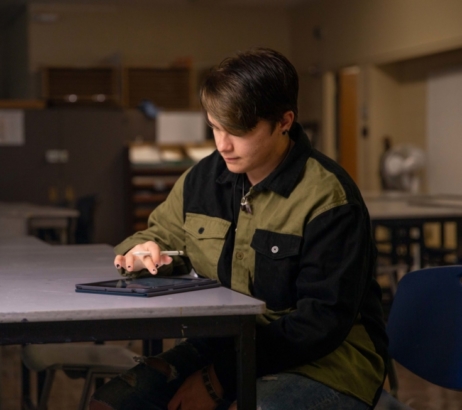 early teens. His previous setup, a laptop and tablet, often stifled his creative process since it took time to set up, and there was a clear disconnect between what Hauke was creating on the tablet and what was appearing on the laptop.
"The iPad has changed how that works, because you can just open Procreate and start doodling immediately," said Hauke. "It helps me get down ideas quickly, which contributes to me being an effective artist. I'm very thankful that I got this technology right now."
Ramya Ravisankar, Ph.D., M.F.A., instructor in Art, has seen the difference in her student's creativity since Project Indigo was introduced
"I definitely feel that access to iPads has improved the way I teach and how students learn in the classroom. They have access to a world of materials, colors, and techniques through digital platforms that they often would not access as actual materials," said Ravisankar. "Personally, I have been using an iPad in my art and design practice for a few years, and it has vastly improved my productivity. I feel the same is true when I see the number of quality artworks produced this year by each Art and Design student."
A recent graduate, Hauke plans on using his iPad to continue evolving as an artist as he enters the professional art world.
"The iPad allows me to easily practice different styles," said Hauke. "Forming your own practice is all about experimentation. I didn't think my iPad would be as life-changing as it has been. I thought it would just be a cool thing to have, but it genuinely has improved my art practice and has become a huge part of who I am as an artist."
To read more about Capital University's Art Department, go to https://www.capital.edu/academics/majors-and-minors/art/.
To learn about Capital University's Project Indigo, go to https://apps.capital.edu/indigo/.