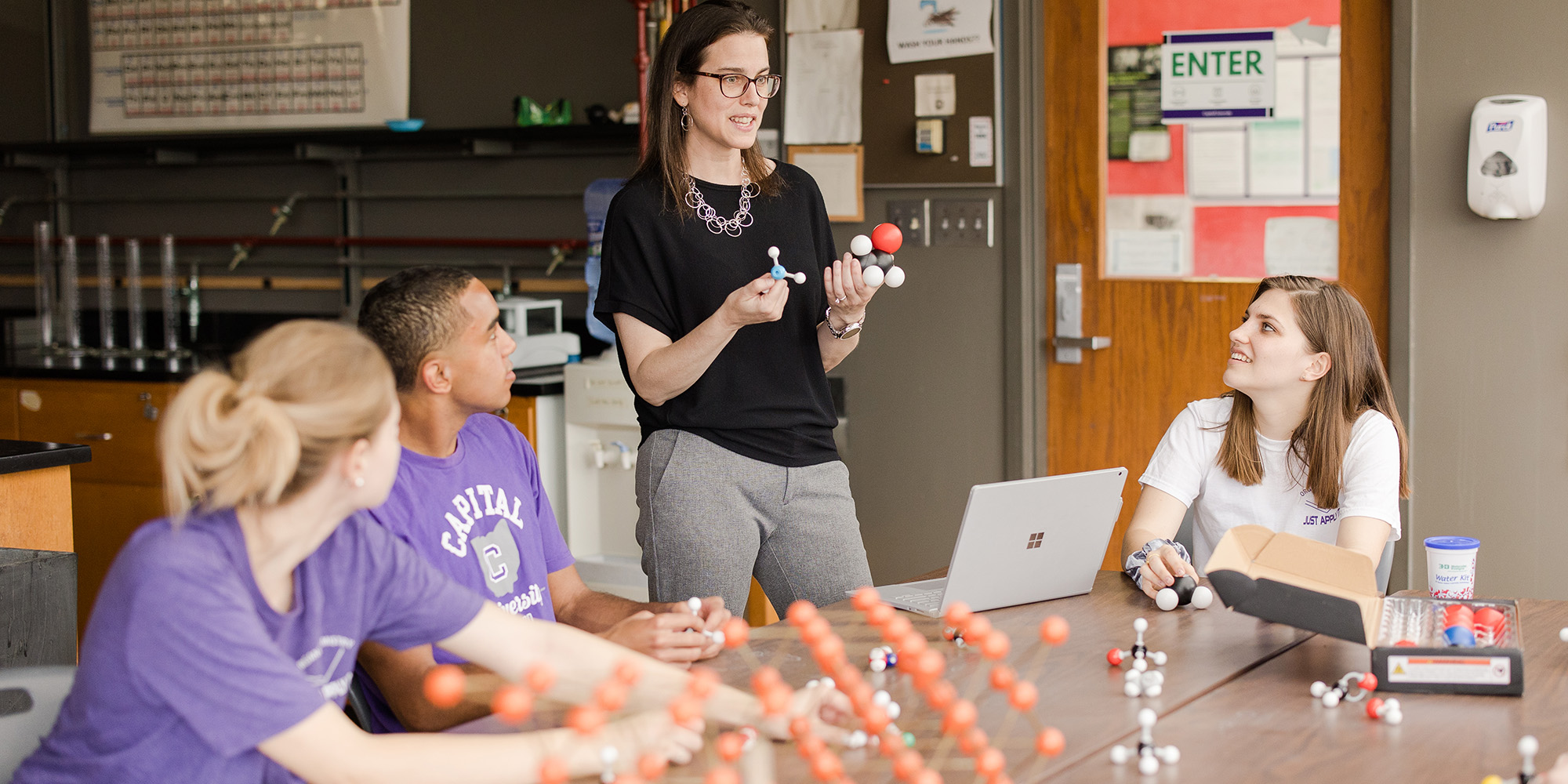 Chemistry and Biochemistry
Chemists study matter – what it is made of, how it interacts, and why it reacts the way it does. Biochemists apply that knowledge and study to the matter in living organisms. Chemists and biochemists develop new materials, new (environmentally friendly, cheaper, safer) ways to make existing materials, research how drugs work, how to improve existing drugs, and how to make new drugs for old and new diseases. As a Capital student, you will be a part of a diverse program that works to directly impact the future by training scientists. Learn how to apply what you learn in the classroom directly to human and animal health.
What can you do with a degree in this academic area?
Doctor or Physician's Assistant
Optometrist, Dentist, or other Health Professional
Forensic Scientist
Pharmacist
Research and Development Chemist
Quality Control Chemist
Environmental Chemist
Chemistry Teacher or Professor
50%
---
of graduates double majored in Chemistry and Biochemistry
6
---
majors tailored to the interests and professional aspirations of Chemistry and Biochemistry students
90%
---
of Biochemistry majors pursue an advanced degree
Explore this Program
Experiential Learning
From lab experience and guided faculty projects, students are involved in research from day one. Opportunities to present at local, regional, and national conferences allow students to network with professionals. Connecting with real-world scientists often leads to internships at world-class research facilities like the multiple partners in Columbus. For example, students have worked at Battelle, Dow Corning, Eli Lilly, and the Columbus Police Crime Lab. Columbus is a unique community that celebrates all industries and the opportunities for professional growth are endless.
Program Philosophy
Biochemists and chemists are problem-solvers, curious, and collaborative – always looking for ways to improve everything from medical procedures to nutrition or the environment. Throughout your academic career at Capital, you will always be supported by professional faculty. When you arrive, you will be assigned a faculty advisor who will work with you to achieve your goals. From courses in analytical, biochemistry, organic, inorganic, and physical chemistry to biology courses, students are prepared for any future they dare to dream.
Accreditation
The Department of Chemistry and Biochemistry has been accredited by the American Chemical Society (ACS) for over 50 years, an honor earned by only about 20 percent of U.S. colleges and universities. Founded in 1876 and chartered by the U.S. Congress, ACS is one of the largest scientific organizations. A champion for chemistry, it's practitioners, and the global community of members, the ACS works to improve lives through the power of chemistry. As a Capital student, you will receive the education and experience needed to meet industry needs.
Sample Classes
Chemical Principles
Organic Chemistry
Analytical Chemistry
Biochemistry
Inorganic Chemistry
Physical Chemistry
"From the moment I spoke with the professors, I knew Capital was the place for me. After just one meeting, these professors remembered my name and details about our conversation. Columbus also offers strong research opportunities and the professors work diligently to find internships for their students. What is also unique is that the professors work as advisors for on-campus research."
-Trey Figgins, Chemistry/Biochemistry. Class of 2024