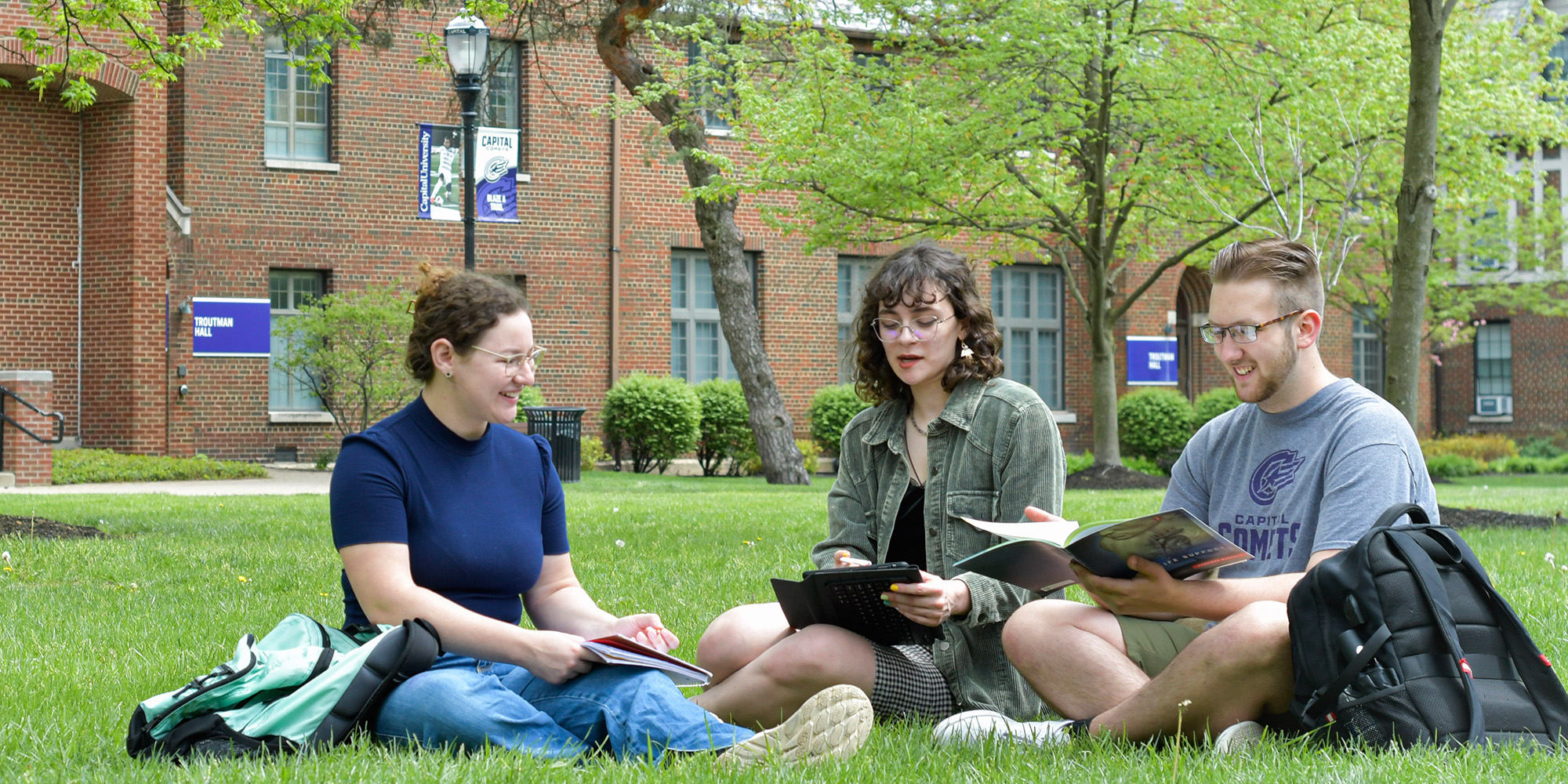 Religion and Philosophy
Religion and Philosophy offer theories and methods for tackling tough issues in a way that brings scholarly rigor to bear on matters that are at the heart of what it means to be human, as individuals and as part of a community. While many of our Religion students have interest in ministry studies, an equally strong group of students pursue the academic study of religion more generally, developing interests in world religions, religion and literature, history, and theology. Students develop key critical thinking, research, and writing skills that are transportable to any career. Graduates pursue a wide range of careers, including law, philanthropy, ministry, and not-for-profit management.
Learn More About Graduate Options at Trinity Lutheran Seminary
What can you do with a degree in this academic area?
Parish pastor
Minister
Chaplain
Church musician
University professor
12:1
---
Student to Faculty Ratio
100%
---
Of Students Complete an Internship Before Graduation
1:1
---
Faculty Advising from Start to Finish
Explore this Program
Experiential Learning
Students gain real-world experience through social services internships, community outreach, campus ministry, youth ministry internships, and worship ministry internships. These experiences allow students to engage with working professionals and supplement their classroom education. The opportunities are endless with Capital's close proximity to Columbus. Students are encouraged to make a direct impact in their community through internships and volunteer opportunities. Learn how to work with various populations including individuals, groups of all ages, and communities
Program Philosophy
Religion students develop the ability to think critically and to articulate and defend their own ideas, the ability to think creatively and the capacity to think critically about life and work in a way that honors their own abilities and needs and those of your community. Religion and Philosophy students thrive inside and out of the classroom. All graduates are prepared for a wide range of careers, graduate school, or seminary.
Faculty Mentorship
While tough at times, the faculty are dedicated to each and every student and will serve as advisors to students throughout their entire time in the program. As working professionals, faculty often help students find their first internships and are active members of their communities. The Religion faculty also administers the pre-seminary program at Capital, in which students from any major may work toward admission to seminary programs and employment in a wide range of professional ministry settings.
"The academic study of religion is different than going to church. When speaking about faith, we preface that faith is the 'lens' we are looking through. This is really important because we have so many students of various faiths or religious traditions on campus. A college setting is good preparation for how to speak respectfully and to ask questions in a way that offers validity."
-Moriah Reichert, Religion, Class of 2019