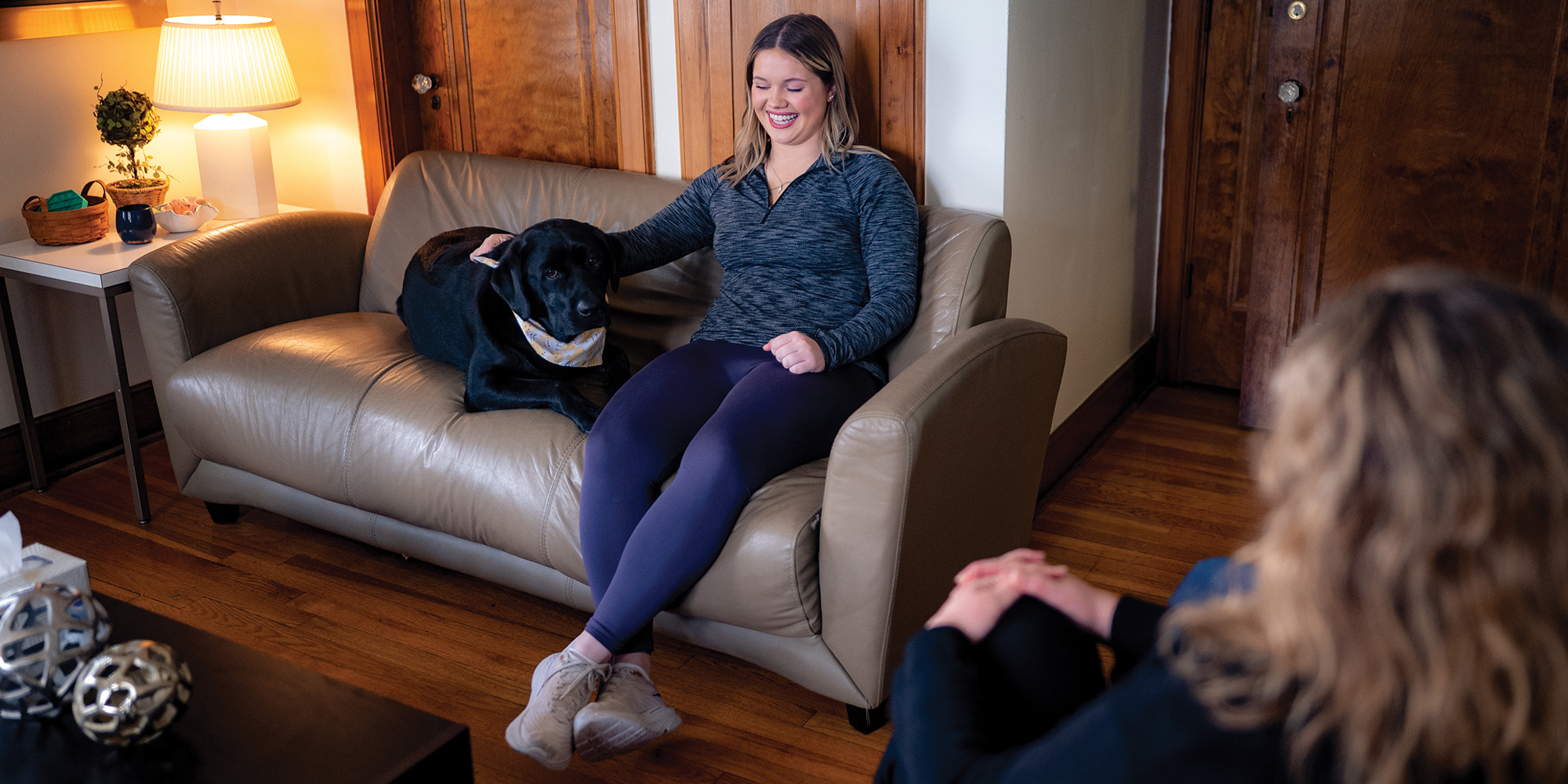 Health and Wellness
The Center for Health and Wellness is here to provide Capital students a full range of medical and mental health services, respectfully serving the diverse needs of our campus community.
Life can come at you fast, especially as the demands of college build up. Capital's singular, most important priority is the well-being of every student. Through an established partnership with the Ohio State University Wexner Medical Center, the Center for Health and Wellness is able to serve the behavioral and physical health needs of the community. 
The dedicated clinical team provides individual and group mental health services and psychoeducational prevention to currently enrolled undergraduate, graduate, and professional students.  
The Center for Health and Wellness embraces the diversity at Capital. The office strives to be a welcoming and affirming space for all students and student identities including but not limited to those based on race, ethnicity, nationality, sex, gender, sexual orientation, socioeconomic status, age, body shape and size, ability, religion, spirituality, and ideology.
24/7
---
Mental Health Support Resources Available
$0
---
Capital Students are Eligible for Unlimited, Free Counseling Sessions
Service Hours
The CHW is located in the Kline Building at 2311 East Main Street, between Blackmore Library and Battelle Hall.
Daytime Appointments: Monday through Friday, 8:30 a.m. to 5 p.m. 
Crisis Walk-In Hours: Monday through Friday, 9 a.m. and 3 p.m.
After Hours Crisis Line to Connect with an On-Call Counselor: 614-236-6114, 5 p.m. to 9 a.m. 
Our Services
Mental Health Counseling Services
Students who are enrolled in at least one Capital course are eligible for unlimited, free counseling sessions during that semester. The Center provides individual, relational and group counseling services in addition to outreach programming and consultation. 
Common reasons students seek counseling services include:
Adjustment to college life
Depression and/or anxiety
Managing academic and life stress
Sleep concerns
Grief
Relationship concerns
Family Conflict
Low-self-esteem
BIPOC, LGBTQIA+ and marginalized student mental health challenges
Types of Care
The Center for Health and Wellness provides services to all students including short term counseling, trainings/workshops, single-session counseling, consultations for individuals or groups, and referrals to community providers for more specialized or long-term care. 
Schedule a counseling appointment by calling the Center for Health and Wellness at 614-236-6114) or email chw@capital.edu. Provide full name, student ID number and phone number. While all attempts are made to keep email messages confidential, the confidentiality of electronically transmitted communication cannot be guaranteed.  
Group Counseling Services
Students have the ability to participate in a structured group counseling session. A variety of groups have been created to directly address student concerns. Some groups are population and/or issue specific, while others consist of skill building and experiential learning. A screening with a counseling staff member is typically required for participation. Most groups are 60 minutes long and consist of five to eight members. 

Medical Services
Capital has developed a plan which allows Capital students access to The Ohio State University's vast array of healthcare options, including Same-Day Care and Urgent Care Facilities. This also allows easy connection to specialists in the OSU system.
Students have the option to self-schedule appointments or seek assistance from the Center for Health and Wellness.
If you would like assistance in scheduling, please contact the CHW at 614-236-6114 during regular business hours. Dortheia Perry, administrative assistant in the CHW, is an access and navigation guide to any student needing assistance. She can assist with scheduling same-day or urgent care appointments and secure transportation via Uber Health for students who need it to get to their appointments. 
Students are still welcome to schedule through their primary physicians or other urgent care/same-day facilities that they prefer.
If you feel you are in a life-threatening situation and you're on Bexley's campus, call Public Safety at 614-236-6666.