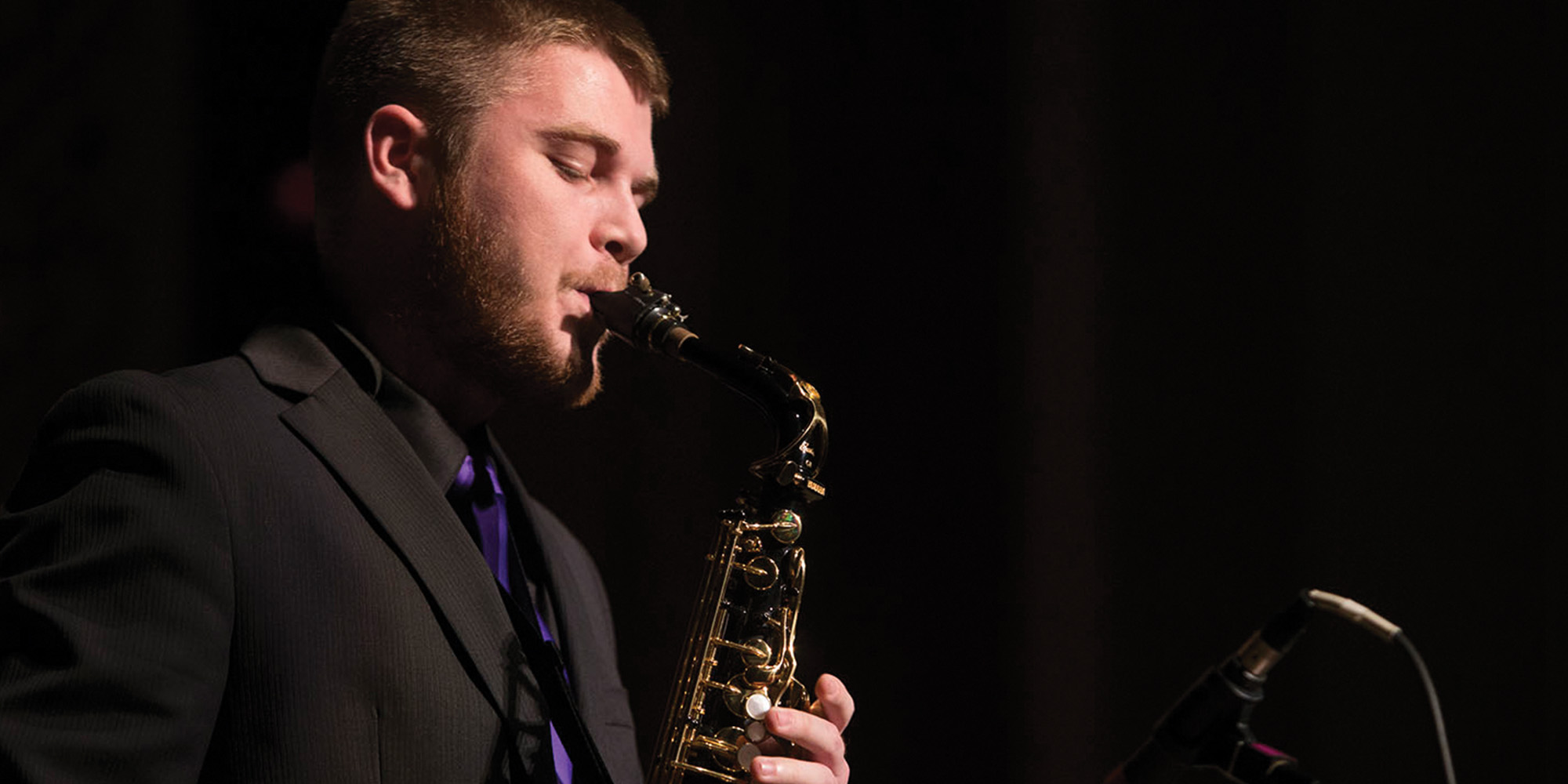 Jazz Studies
At Capital, we welcome musicians who have a passion for jazz and are interested in pursuing a career in jazz performance. Our program and curriculum focus on providing our students with a variety of performance opportunities. From large group bands to smaller ensembles, you'll grow your jazz skills and experience music-making in other contemporary areas. Additionally, our program encourages the development of jazz-related skills and practice. These include music technology, composition, and participation in traditional and world music experiences.
The Jazz Studies degree program is accredited by the National Association of Schools in Music (NASM).
What can you do with a degree in this academic area?
Musicians and Performer
Arts Organization Manager
Music Producer
Music Educator
3:1
---
Student to Faculty Ratio
Custom
---
Customized Curriculum of Study
Explore this Program
Experiential Learning
The Conservatory of Music is proud to sponsor an active performance season that brings enthusiastic audiences from our campus and community. With more than 200 performance events each year, our jazz students are busy in rehearsal, on stage, and in the studio. And because we are located right next door to Columbus, Ohio, your opportunities just got bigger. Home to a vibrant arts community, you'll have many chances to observe and network first-hand with professional jazz musicians in a variety of venues and different music events. It's something unique to our location. Before long, you may find yourself performing alongside professional fellow jazz enthusiasts.
Program Philosophy
We realize that your goals or plans may change as you move through college. With this in mind, we've created our programs so that your first year is exploratory, offering you a more generalized study of music. So, if your area of study changes, your credits can more easily transfer to a program that's more suited to your interests. And because our student to faculty ratio is low, classes are smaller meaning that you have access to dedicated faculty mentors that will help you determine your path forward.
Admission and Audition
Students planning to study Jazz Studies need to complete a two-part process to gain admittance to the program.
Submit your admission application to Capital University along with the required supporting documents.
Once you are academically admitted to Capital University, you will be able to submit an audition application and register for your audition date by clicking on the reply form found on your status page.
For specific audition dates and requirements by instrument or area of interest, please use the Emphasis Requirements tool.
Sample Classes
Jazz Theory and Audiation
Improvisation
Jazz Styles and Analysis
Jazz Arranging
Jazz Composition
History of Jazz and Popular Music
Applied Lessons on Principal Instrument
"Growing up in Lebanon and being a musician fascinated by jazz, I planned to go to the U.S., the birthplace of jazz. My teacher in Lebanon, was a Capital alum. He told me about Capital's Jazz Studies program. Professor Bob Breithaupt leads a series of summer drum workshops in Lebanon that I had attended. Meeting Bob gave me a better perspective on Capital's program and so I applied. In 2018, I transferred and flew from Lebanon to Columbus to attend Capital."
-Ayman Abi Kheir, Jazz Studies, Class of 2020