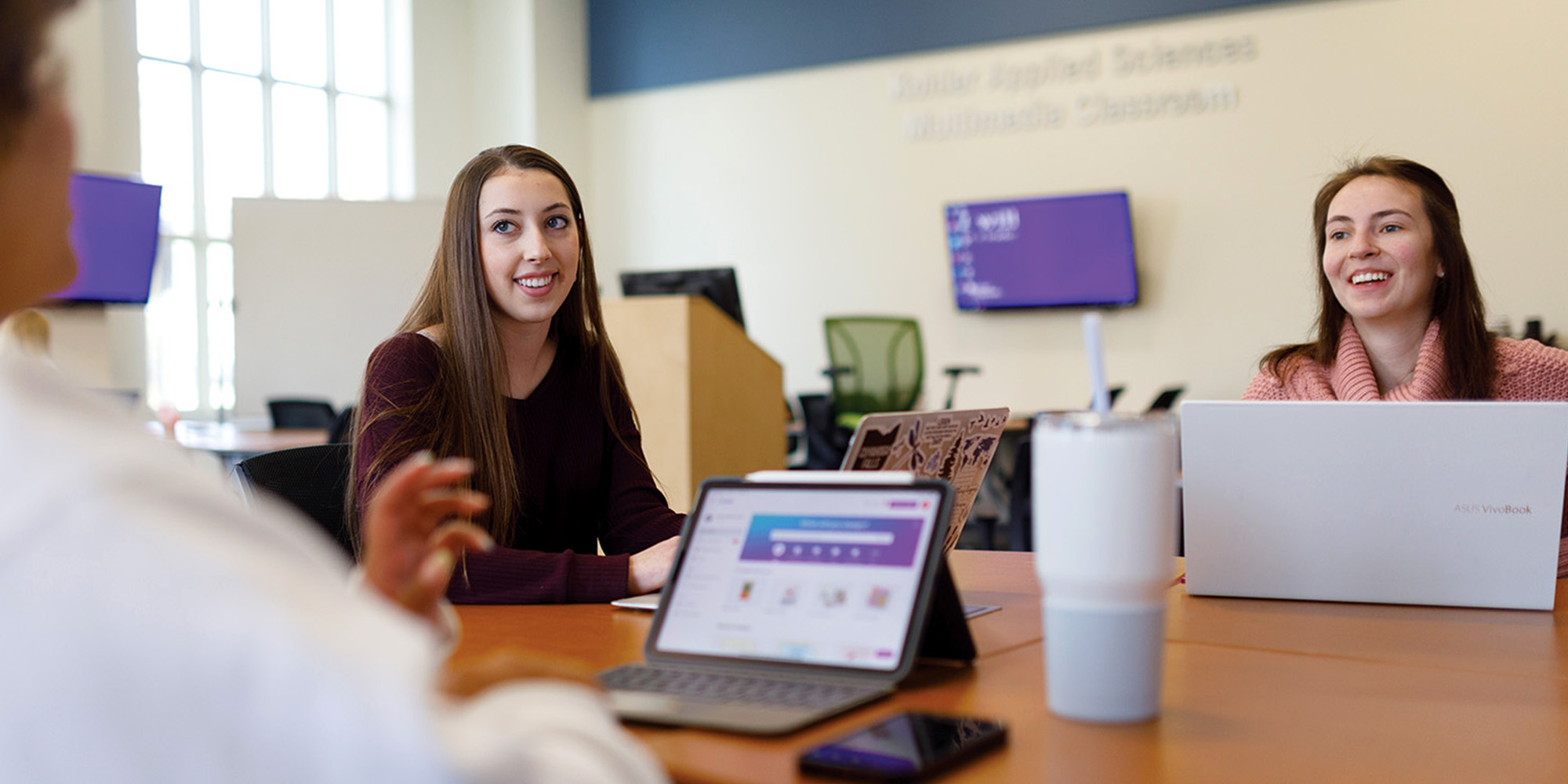 Marketing
Capital Marketing students graduate with a portfolio of work that demonstrates their ability to immediately add value to future employers' organizations. Through experience with local business and the required digital marketing training, students are ready for today's job market. There is strong demand for marketing graduates across the country. This is especially true in Columbus, the 15th largest city in the nation and home to major corporations, nonprofit institutions, and small businesses — many of them just a few miles down the road from campus. Marketing is a broad major and students at Capital take specific Marketing courses, along with a strong liberal arts background.
What can you do with a degree in this academic area?
Brand and Product Management
Marketing Communications: Advertising, Public Relations, etc.
Digital Marketing
Customer Experience: Research/Insights
New Product Planning and Development
Sales and Sales Management
Pricing Research and Analysis
Distribution/Logistics Management
Retail Marketing
#1
---
Rising City for Startups
17
---
Fortune 1,000 Companies in Columbus
1:1
---
Faculty Advising from Start to Finish
Explore This Program
Experiential Learning
Every Capital marketing major will connect with the Central Ohio marketing business community and gain relevant marketing experience that will help build a competitive student resume. High performing marketing students will be able to compete for Capital's exclusive Moor Consultants Internship Program. Each year, 10 to 12 students will be placed in paid internships with local non-profits including Nationwide Children's Hospital, American Heart Association, United Way, American Red Cross, and Big Brothers Big Sisters. This experience helps students build their resumes and network with the local business community.
Program Philosophy
Capital University requires all Marketing students to become trained in digital marketing: Google Analytics, customer relationship management (CRM) software, social media marketing, etc. In fact, Capital requires eight hours of work in digital marketing and sales technologies because we know employers' value this knowledge. During their time at Capital, students are challenged to achieve the following skills: develop and give professional presentations, write professional reports, create a marketing plan, and conduct both qualitative and quantitative research.
Accreditation
ACBSP: Accreditation Council for Business Schools and Programs
A global business education accrediting body, The Accreditation Council for Business Schools and Programs (ACBSP), evaluates aspects of leadership, strategic planning, relationships with stakeholders, quality of academic program, faculty credentials, and educational support. Capital is proud to offer a standard of excellence based on the Baldridge Education Criteria for Performance Excellence. The accreditation focuses on recognizing teaching excellence, determining student learning outcomes, and a continuous improvement model. ACBSP's student-centered teaching and learning approach, which is measured and analyzed for quality, ensures that students gain the right skills from their educational investment.
Sample Classes
Consumer Research and Strategy
Promotional Planning and Metrics
Digital Marketing
Sales and Marketing Technology
Marketing Management
Marketing Internship
The booming city of Columbus is home to some of the best professional opportunities and companies, especially from my vantage point as a marketing major. I was fortunate enough to complete two of my five marketing internships at renowned Columbus businesses, which was also excellent for networking opportunities.
-Marygrace Chylinski, '20