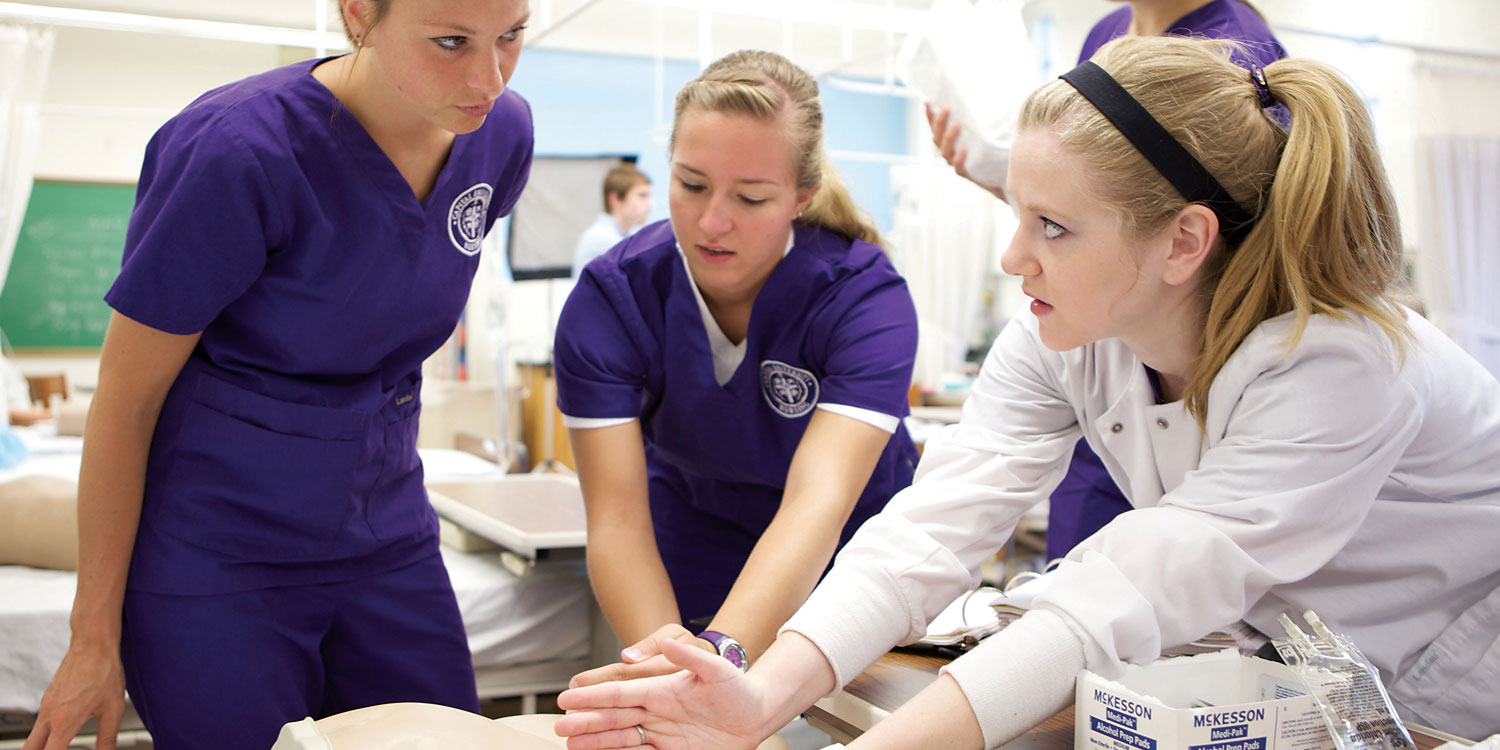 Master of Science in Nursing
Your career in nursing has yielded countless rewards that have come from the patients you've cared for, the institutions you've served, and the personal feeling of purpose you've experienced in your work. And now it's time to take the next step in your career and life path with an MSN from an established, highly respected university. One that is close to home, offers maximum flexibility, and connects you to an expansive network of nursing professionals. At Capital, our teaching is grounded in a holistic philosophy. We believe that you are as unique as each of your patients and so we've designed a program that allows you to graduate in as few as two years – or at a pace that works best for your life, family, and career.
What can you do with a degree in this academic area?
Nurse Manager
Clinical Instructor
Quality and Safety Manager
Health Policy Analyst
Operations Manager
Health Informatics Leader
Clinical Nurse Leader
Nurse Educator
70+
---
Years of Nursing Education Excellence
360+
---
Hours of Field Experience
Explore this Program
Experiential Learning
Close to downtown Columbus, Capital is surrounded by five Magnet ® Hospitals — hospitals who have earned the highest level of recognition for quality nursing. Through clinical field experiences, you'll observe and gain nursing and leadership skills from some of Central Ohio's best nurses who are involved in the very best practices. It's a win-win: you'll rise to the forefront in your field and grow your professional and career connections. Our graduates have assumed leadership positions at some of the most respected health and teaching organizations in the Midwest including:
The Wexner Medical Center
Hospice of Central Ohio
OhioHealth
Nationwide Children's Hospital
Otterbein University
Mt. Carmel College of Nursing
Cedarville University
Mt Carmel Health
Columbus Public Health
Fairfield Medical Center
Grady Memorial Hospital
Learn at Your Own Pace
MSN courses are offered online in either 8 or 16-week formats allowing you to take one or two courses at a time. Courses are asynchronous, which is a format that relies primarily on online learning. You'll collaborate with other students online, which maximizes your flexibility to learn. You will have field experiences in select courses that require on-site practice. You also will be on campus for selected key moments during your program—giving you the benefits of personal interaction with professors, fellow students, and our beautiful campus. All MSN students can expect:
360+ hours of field experience
20 students or fewer per class
6 semesters of full-time study
Options for full-time or part-time enrollment
Admission Dates and Criteria
MSN students can apply at any time during the calendar year. Students are enrolled three times during the year: August, January and May.
Admission is open to nurses who are licensed in the state of Ohio and are graduates of a program of nursing that is accredited by either the National League for Nursing Accrediting Commission (NLNAC) or the Commission on Collegiate Nursing Education (CCNE). Admission will not be denied on the basis of race, religion, age, sex, color, disability, sexual orientation, national or ethnic origin, or political affiliation. Applicants are requested to provide information pertaining to their academic, intellectual and professional abilities through college transcripts, personal references, and a writing sample.
Master of Science in Nursing Program Concentrations
Nursing Administration
In the Nursing Administration track, classes focus on leadership
development and skill building for inter/intraprofessional teamwork and
project implementation. Graduates in the Administration concentration will be prepared for roles in upper level nursing management and clinical leadership in areas of patient healthcare, quality and safety, and evidence-based practice. The curriculum also includes courses from Capital's MBA program which will complement your education by expanding your nursing foundation to include an important leadership perspective. These courses create an opportunity for you to confidently pursue your MBA later in your career, if that is of interest to you.
Nursing Education
In the Education track, classes focus on topics and
experiences that will prepare you for roles in nursing, continuing or higher education, or nursing staff development. The Education concentration is for nursing professionals who have an interest and passion for teaching patients and families, mentoring and guiding nursing students, and educating fellow healthcare professionals. Our curriculum and discussions will examine learning theories and evaluate nursing education trends. The skills and knowledge you gain will make you highly marketable as a nurse educator.
Nursing Legal Studies
In the Nursing Legal Studies track, classes focus on the cross over and collaboration of nursing practice and the law. Graduates of the Legal Studies concentration are prepared for roles in risk management/analysis, regulation/compliance, health policy, and managing legal issues in the healthcare system. As a Legal Studies student, you'll take some of your classes at Capital University Law School. This will give you a unique opportunity to learn about law and consider the possibility of pursuing your law degree at some point in the future.
Quality & Safety
Becoming an expert in Quality and Safety is essential in all areas of the nursing profession. This MSN concentration gives you the critical knowledge and hands-on experience to use data to examine trends in global health to lead change initiatives that will impact patient care and enhance healthcare. Our program gives you the opportunity to work with interdisciplinary experts in performance and process improvement (PPI) projects and gain advanced experience in healthcare Quality and Safety.
Post-Graduate Nursing Education
For nursing professionals seeking to move into an advanced practice role, Capital offers a Certificate of Nursing option. Interested candidates must have a Master's of Science in Nursing degree and an adult clinical professional background. The Certificate program includes a combination of coursework and 500 hours of clinical experiences. Graduates will gain expertise in adult and gerian health promotion and illness management and become skilled leaders whose work focuses on improving the care of the adult-gerontology population.
Sample Classes
Applied Healthcare Statistics
Advanced Nursing Science and Theory
Foundations of Holistic Practice
Advanced Research and Evidence-Based Practice
Healthcare Technology and Informatics
Ethical and Policy Issues in Contemporary Nursing
"After 8 years as a practicing nurse in the field, I challenged myself with a trajectory change to pursue a master's degree. I love the small classes and making new friends. There is an openness with the professors that I find amazing. The experience has opened up connections at new hospitals and ideas of a future as a pediatric clinical instructor."
- Christine Heckler, MSN: Education, Class of 2023