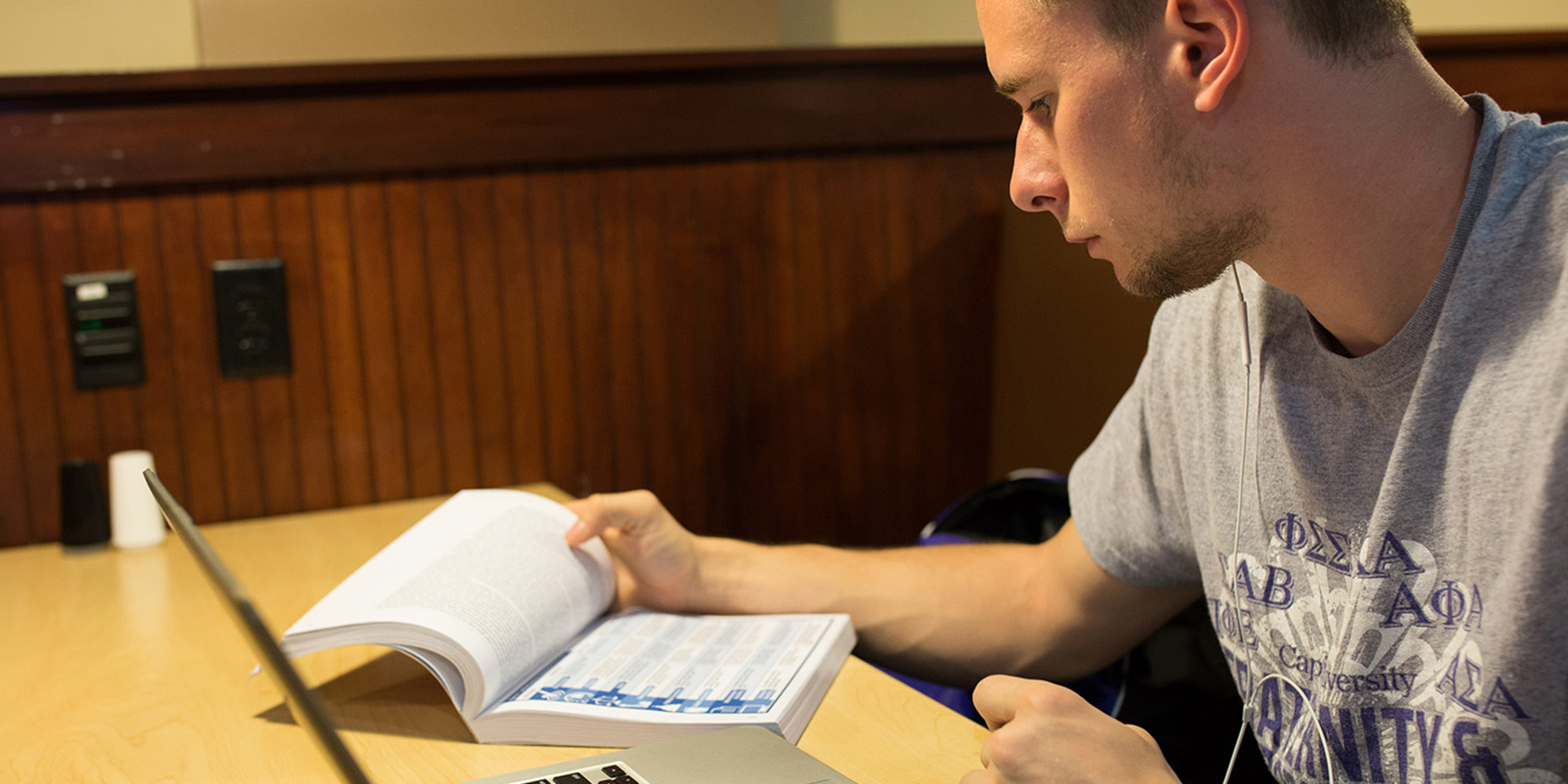 Computer Science
Capital's Computer Science program is designed to prepare students for success in a rapidly changing field. Computer scientists create and work with computer hardware and software systems, which means that they are highly valued in today's tech-driven society. And because of the global demand and our reliance on technology, computer scientists have a range of career options available to them. Our graduates have been successful whether they have entered the workforce immediately after graduation, or chosen to pursue a graduate degree. And job demand and outlook are strong. Today you're a Capital Computer Science student; tomorrow you could be a systems analyst, industry engineer, researcher, programmer, a network administrator, or quality control specialist. Possibilities are waiting for you.
What can you do with a degree in this academic area?
Software Project Director
Programmer/Analyst
Director of Network Services
Systems Administrator
Computer Systems Manager
MIS Technical Analyst
12:1
---
Student-to-Faculty Ratio
90%
---
Of Grads are Employed or in Grad School Within 6 Months of Graduation
1:1
---
Faculty Advising from Start to Finish
Explore this Program
Experiential Learning
Capital's location in the thriving capital city of Columbus allows students to take advantage of opportunities to intern or work part-time in any number of business, research, or tech companies and organizations. Our students have participated in internship programs with larger companies including: Battelle, Nationwide Insurance, and OCLC, as well as smaller companies and startups located in the Columbus area. Capital students also have options for hands-on, people-facing experiences by working as tutors for computer science introductory courses or serving as student assistants in the university's Information Technology Department.
Program Philosophy
At Capital, our strength is the combination of a strong foundation of computer science education and the development of specialized skills needed for success in the industry. But beyond that, our emphasis on a liberal arts core gives our students opportunities to take courses that help them think critically, communicate effectively, adapt to change, and work collaboratively with people and consider ideas from a wide range of perspectives. Employers who recruit our graduates have identified this unique combination as something that sets Capital graduates apart from others.
Career Outcomes
Our graduates work in a wide range of industries and for a number of quality organizations such as American Electric Power, Apple, Battelle, Cardinal Health, Microsoft, Nationwide Insurance, the Ohio Arts Council, Twitter, and Willow Tree.
Sample Classes
Algorithms and Data Structures
Software Design
Database Systems
Software Engineering
Computer Networking
Computer Security
iOS Development
Summer Scholars Program
At Capital, we are committed to providing high-impact educational experiences to our students during their time at Capital. Through funding gifts from alumni and friends of the University, we are pleased to offer the Summer Scholars Program, a 10-week paid research experience to undergraduate students. The Program requires students to complete a proposal guideline that outlines the research project software, and equipment to perform their work. Summer Scholars requires an application and acceptance into the program, a full 10-week commitment to complete all research, and presentation at the Summer Scholars Final Presentation event held in August. All Summer Scholars receive a stipend for participation and a campus housing allowance, and are eligible to apply for additional funding for research supplies. For more information regarding the application process, guidelines and expectations, and proposal details, visit our Summer Scholars Program page.