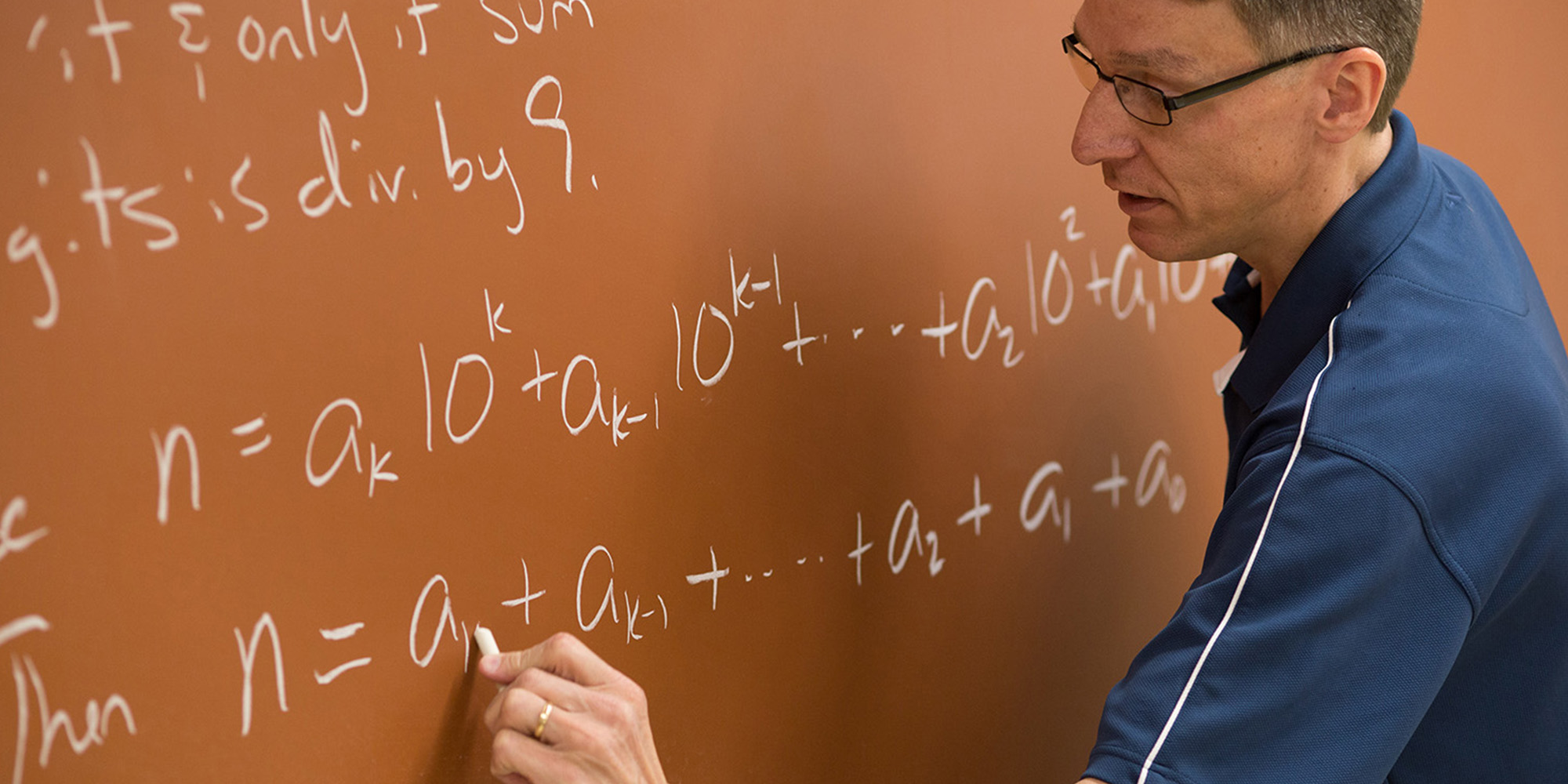 Mathematics
A degree in mathematics offers you possibilities to choose a career path that is interesting to you and impactful to the world. Math graduates can apply their skills to careers in medicine, law, data science, biotechnology, national security, and software engineering – just to name a few. Employers seek graduates who have the ability to think independently, creatively, and critically. But beyond that, they want individuals who are driven to seek answers to important questions. A math degree gives you the skills and training to make that sort of contribution, in any industry you choose.
What can you do with a degree in this academic area?
Research and Development Manager
Design Engineer
Controller
Materials Manager
Actuary
Computational Finance Manager
12:1
---
Student-to-Faculty Ratio
90%
---
Of Grads are Employed or in Grad School Within 6 Months of Graduation
1:1
---
Faculty Advising from Start to Finish
Explore this Program
Experiential Learning
Capital University is located adjacent to Columbus, Ohio. Our proximity to Columbus allows students to take advantage of the area's bustling business and technology sectors, which offer a wide variety of internship and employment experiences. Many of our students also gain important experience through campus employment positions by serving as paid tutors and laboratory supervisors in any one of our math and science labs. Capital's Summer Scholars Program is an additional paid opportunity for undergraduate research. During this 10-week research experience, students are paired with a faculty mentor who will supervise an approved research project. Students earn a stipend and housing allowance, and can apply for additional funding for research.
Program Philosophy
Mathematics faculty members at Capital are committed to the University's mission to provide personalized quality education. This commitment is especially reflected in your professors' willingness to provide support outside of the classroom. Our faculty are knowledgeable about the most current and best use of computing technology to enhance student learning in the field of mathematics.
And we understand the relationship and synergy of math to other disciplines. Our program curriculum includes complementary and supporting courses in the sciences, programming, combinatorics, and intermediate statistics. And during your junior and senior years, you'll have the opportunity to participate in a departmental seminar that features your original research, giving you the chance to share your unique work and discoveries with others.
Career Outcomes
Our mathematical graduates have found employment as research and development managers, design engineers, controllers, materials managers, actuaries and computational finance managers, and math educators. Here are where some of our graduates are employed:
Battelle Memorial Institute
American Electric Power
Nationwide Insurance
Bishop Hartley
Pickerington Schools
Nationwide Children's Hospital
Huntington Bank
Safe Auto
Sample Classes
Calculus I, II, and III
Proofs
Linear Algebra
Differential Equations
Introduction to Computational Science
Abstract Algebra
Explore More
Mathematics Education Degree
Students who are interested in earning a Mathematics with Educational Licensure degree complete many of the same courses at traditional mathematics majors, and then add supplemental education requirements from the Adolescent to Young Adult Teacher licensure program. College Geometry and the History of Mathematics are two additional courses for required for math education students. With this degree, our graduates are prepared to teach mathematics in grades 7-12 in Ohio schools. Specific course requirements for the Mathematics Education program can be found in the Undergraduate Bulletin.
Summer Scholars Program
At Capital, we are committed to providing high-impact educational experiences to our students during their time at Capital. Through funding gifts from alumni and friends of the University, we are pleased to offer the Summer Scholars Program, a 10-week paid research experience to undergraduate students. The Program requires students to complete a proposal guideline that outlines the research project software, and equipment to perform their work. Summer Scholars requires an application and acceptance into the program, a full 10-week commitment to complete all research, and presentation at the Summer Scholars Final Presentation event held in August. All Summer Scholars receive a stipend for participation and a campus housing allowance, and are eligible to apply for additional funding for research supplies. For more information regarding the application process, guidelines and expectations, and proposal details, visit our Summer Scholars Program page.
"I remember walking onto the campus for the first time and seeing students sitting around and studying at the fountains. What made Capital stand out was that the students were talking to each other. That was the type of closeness that I wanted to experience at my future college. No school does family like Capital. The small class size gives me personal connections with all of my professors, and I have been successful in my studies because of this."
- Gracey Day, Economics and Math, Class of 2022