Conservatory Admission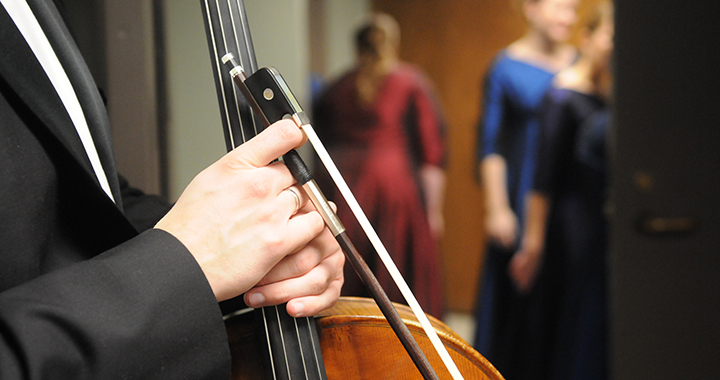 We are pleased that you are applying for admission to the Capital University Conservatory of Music.
The purpose of the audition is to determine the musical qualifications of each student. The guidelines under emphasis requirements on the Conservatory Admission webpage can assist you as you select the pieces you plan to perform.
Your audition performance, academic record, and admission application information will be used to determine your scholarship eligibility. For questions, contact Ishan Thapa, Coordinator of Conservatory Recruitment, by phone at 614-236-6435 or by email at ithapa@capital.edu
Applying
Students planning to study in the following areas need to complete a two part process to gain admittance to both Capital University and the Conservatory of Music.
Composition
Jazz Studies
Keyboard Pedagogy
Music Industry
Music Technology (Bachelor of Music)
Music Education
Performance
Bachelor of Arts in Music
Music Undeclared
Submit your admission application to Capital University along with the required supporting documents.
Once you are academically admitted to Capital University, you will be able to submit an audition application and register for your audition date by clicking on the reply form found on your status page. Click above on "Emphasis Requirements and Professors" to find out more about the audition requirements.  

---
Auditions
Be sure to note the audition requirements below prior to your audition.
Auditions:
Friday, January 19, 2024
Saturday, January 27, 2024
Monday, February 19, 2024 (President's Day)
Friday, March 22, 2024
The Fall 2024 audition application will open for students who have been academically admitted to Capital.
Students applying internationally: If you are unable attend an audition in-person, contact Ishan Thapa at ithapa@capital.edu for remote opportunities.
Can't make it to any scheduled audition days? Have questions?
Contact Ishan Thapa, Coordinator of Conservatory Recruitment, by phone at 614-236-6435 or by email at ithapa@capital.edu.
Emphasis Requirements
Our instructors are some of the best in the business—and in the classroom. That means you will be learning from people who, quite frankly, have been there, done that. As committed educators, they are prepared to share their knowledge, expertise and contacts so you, too, can orchestrate a career in music, whether your passion is classical, contemporary or somewhere in between.
Select your intended instrument to learn more about our applied faculty and audition requirements.
Group Audition Days
We look forward to hosting you for your on-campus audition. After you submit the required documents, a confirmation email will be sent with more information on your audition date.
Performance - Your performance in the audition will be conducted by the faculty of your applied area of study (voice or instrument). This will assess your current level of training, as well as your potential for growth in your program of choice. There will be a short interview with the faculty to ensure that they get to know you on a personal level as well as a performance level.
Students planning to major in Composition will be scheduled for an audition with the composition faculty to review your background and discuss your portfolio in addition to your instrumental/vocal audition.
Theory, listening, and piano placement skills are assessed during the first week of classes as an enrolled student at Capital University
We will be emailing a parking pass, campus map, and more details on locations approximately 2 weeks prior to your audition. Plan to arrive for registration between 8:30 and 9:00 a.m. The exact time for your audition will be given to you a few days prior to your audition date.
Conservatory Audition FAQ
What should I wear?
This audition is your chance to make a positive impression on the faculty. Dress nicely and professionally.
How long should I expect to be on campus?
Allow up to 30 minutes for your audition experience. This time will include asking questions of the faculty and completing the remaining portions of your audition. You will also have opportunities for campus tours, attending a student panel, and lunch if you'd wish to attend those. 
Can I perform an original composition for my audition?
Performing an original composition is discouraged on audition day. The faculty in your applied area (instrument or voice) wants to hear what you can do with an already published work, regardless of your major.
NOTE: Composition applicants must submit a portfolio of representative original compositions, with the expectation of three to four works of contrasting style. You will be scheduled for a separate interview with the composition faculty in which to discuss and review these works. Please allow an additional 30-minutes for this interview.
What should I do if I'm sick the day of my audition?
If you are ill the day of your audition and cannot perform to your highest quality, contact Ishan Thapa, Conservatory of Music Admission Counselor to cancel and reschedule your audition. When possible, please provide 24 hours' notice.
Is there a fee for my audition at Capital?
There is no charge for your audition. 
How should I record my audition?
If you are doing remote audition, record your video audition with your preferred device. You will be asked to upload your video to YouTube as an unlisted video. You will then upload the link to your video to your Capital Status Page for official submission.