Religious and Spiritual Life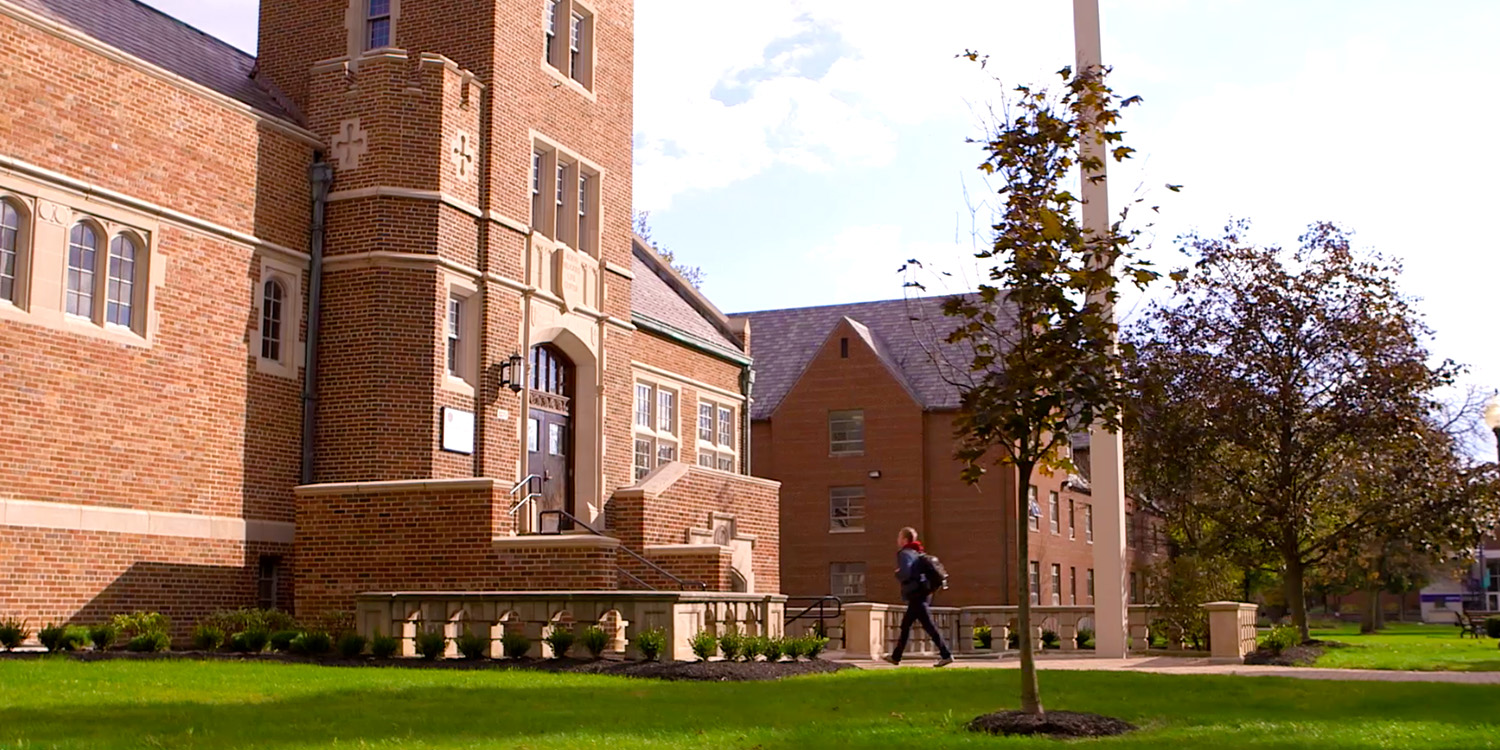 We are each full of sacred worth and called to a sacred work. 
The Office of Religious and Spiritual Life at Capital University celebrates the divine dignity and God-given value of all people, of all abilities, of all races, of all sexual and gender identities. We believe that God calls us to the same table with a common purpose: to increase abundant life for every member of the Capital Community.
Every Capital student is a welcome member of our spiritual community. Whether you are fully devoted to a religious tradition not sure what you believe about spirituality, that's okay. There is a place for you here! Capital's foundation within the Lutheran tradition creates an environment inclusive of people from all faith backgrounds that supports life-giving community for all of our students. From a diverse array of backgrounds, Capital offers you many opportunities to explore your beliefs and live them out in service to others.
Is Capital a Christian college?
This is one of the most researched questions when people are inquiring Capital. Capital University was founded through the Lutheran seminary back in 1830 and still retains an active relationship with the Evangelical Lutheran Church in America. Rather than require you to believe in a particular religion, force a specific moral code, or demand chapel attendance – we don't do ANY of those things – our distinctively Lutheran approach to higher education fosters an inclusive, supportive community for people of any religious or spiritual background. These values inspire us to foster a multi-faith community the celebrates diverse religious expressions and supports spiritual wellness as a core aspect of human development. For a bit more on that, check out this video from our University Pastor.
Stay Connected
Follow CFL on  Twitter and Facebook to stay up to date with religious and spiritual life at Capital!
Staff 
Rev. Drew Tucker - University Pastor and Director of the Center for Faith and Learning
Email: dtucker@capital.edu 
Rev. Dikiea Elery - Assistant Director of Religious and Spiritual Life
Email: delery@capital.edu 
Worship
Every week, Capital hosts a number of worship opportunities for the whole community. 
Capital Worship is every Wednesday at 10AM in Gloria Dei Worship Center. Come expecting organ music and traditions familiar to many kinds of Christians with more formal liturgies (like some Lutherans, Catholics, Episcopalians, Presbyterians, Methodists, and others). This is where students, faculty, staff, and administrators come together for worship. 
Candlelight Worship is every Thursday at 9:09PM in Gloria Dei Worship Center. Come expecting band-led music and a more informal setting with lots of singing, scripture, and conversations in a Christ-centered, student-led service that feels more nondenominational and includes Christians of all stripes.
Meditation and Mindfulness happens every Monday at 4:30PM in the Interfaith Prayer Space. This brief moment offers an opportunity for people of all religions and worldviews to come together at the beginning of the week to center ourselves and our work in ways of peace, potential, and purpose.
In addition to these three university-sponsored worship opportunities, Trinity Lutheran Seminary hosts worship every Monday, Tuesday, and Thursday at 10AM and invites all to participate. 
---
University-Sponsored Campus Ministries
Embrace Ministries
Embrace Ministries is a curious, inclusive community, centered in Christ, discerning God's call, and sent by the Spirit's Love. This ecumenical Christian organization includes people from many Christian backgrounds, Lutherans and Catholics, Evangelicals and Episcopalians, Nondenominational and many, many more. In addition to leadership with Capital Worship and Candlelight, Embrace also hosts annual retreats, spring break trips, small groups, and service events.
Embrace Ministries is a Reconciling in Christ community that celebrates that every individual person uniquely embodies the image of God. We affirm members of any sexual orientation, gender identity and expression, socioeconomic status, ethnicity, race, ability, and background. Inspired by the unconditional love of God in Jesus Christ, we hear the call of the Spirit to commit to providing a safe community, where each member is loved for each part of their identity.
In addition to weekly worship, they also host a weekly Dinner and Dialogue event each Tuesday from 5-6PM in the Lower Level of Trinity Lutheran Seminary. This community meal is open to all members of the Capital community. They also host annual retreats, spring break trips, small groups, and service events.
Interfaith Council
Interfaith Council offers an opportunity for representation by every spiritual tradition on campus, even those without an official student organization. We have two goals: to raise awareness about the spiritual diversity that exists in the Capital community, and to sponsor programs that support friendships between people of different religious traditions. If you're interested in the work of the Capital Interfaith Council or want to be sure your tradition is represented, contact Pastor Drew. 
Interfaith Prayer Space
There are two interfaith prayer spaces, one in Kerns 101 (open during business hours) and one in Saylor-Ackermann Lobby (open 24 hours), open to members of the Capital from every spiritual background for meditation, prayer, or quiet reflection. These are available on a first-come, first-served basis. The three worship spaces on campus – Kable Chapel in Kerns Religious Life Center, as well as Schenk Chapel and Gloria Dei Worship Center in Trinity Lutheran Seminary – can be reserved for group events through Meeting and Events Services.
Center for Faith and Learning
The Center for Faith and Learning seeks to form global citizens and servant leaders at the intersection of the academy and spirituality. We seek to accomplish that mission through four goals:
To foster regular dialog between members of the university community to increase our understanding of the Lutheran heritage, ethics, and education.
To provide resources for the university community to deepen its knowledge and appreciation for the role of religion and ethics in higher education.
To identify and articulate bridges between existing and emerging activities of the university and our Lutheran heritage.
To cultivate relationships across congregations, agencies, and regions within the Evangelical Lutheran Church in America.
CFL activities include guest speakers like the Rev. Lenny Duncan and Emily joy Allison, university task forces to clarify and amplify faith-based priorities, and professional development opportunities for Capital and the wider community.
The annual Big Questions Retreat is a free opportunity for faculty and staff to deepen understanding of vocational exploration in young adults. This features both the wisdom of the Capital community and invited guests, like Ohio State's Dr. Jasmine Akubar and Augustana University's Dr. Jason Mahn.
The Director for the Center for Faith and Learning serves as an ex officio member of Capital's Board of Trustees to interpret contemporary Lutheran values, build support for faith-based initiatives, and promote spiritual wellness as a core priority.
Preseminary Program
In partnership with the Religion and Philosophy Department, we host a preseminary program that includes opportunities for small group conversation, dedicated Spring Break ministry immersions, and faith coaching opportunities to help students explore their vocations and the possibility of seminary education. Students do not have to commit to seminary, whether at Trinity or anywhere else. They must simply be considering a call to seminary education and the possibilities that entails.
Preseminary scholarships are also available. To be eligible, you must be officially declared as a preseminary student with the Registrar's Office as well as engaged in university-sponsored ministries. For more information on joining the small group, Spring Break trip, or scholarships, contact Pastor Drew directly.
---
Religious Organizations
We have several student-led religious organizations that represent various faith traditions.
Interfaith Council
The Interfaith Council seeks to uplift students' religious and spiritual traditions not commonly represented on campus by integrating spirituality with academic life while promoting relationships, peace, and understanding of all faith and spirituality traditions.

Contact: Niel Johnson
IMPACT
The purpose of IMPACT is to build movements of people who are transformed by Jesus Christ.  The student-led movement seeks to introduce students to Jesus Christ, help them to grow in their faith, encourage them to live life passionately under the lordship of Christ, and inspire commitment to advancing the purposes of God in the world.
Young Life
"Young Life College at Capital introduces students to Jesus Christ with a relational community to be known, loved and to help them grow in their faith through events, small groups, and Bible studies."
Contact: Torie Cochran
Somali Muslim Student Organization
The mission of the Somali Muslim Student Organization is to positively impact the perception of Muslims on campus by promoting the understanding through the educational programming.
CCO Capital
CCO Capital calls students to serve Jesus Christ in every area of life by rooting them in the Gospel, connecting them with local churches and inviting them into a Kingdom vision for all of life. The ministry on campus consists of Whiteboard conversations, small group Bible studies, discipleship groups, local church connections and various events.
Contact: Maria Pickerill
Catholic Student Organization
CSO is a Roman Catholic ministry open to all of campus, regardless of religious practice, centered in Catholic teaching and liturgical spirituality. 
Contact: Ella Brickman
CRU
Cru is a caring community passionate about connecting people to Jesus Christ. Our purpose is helping to fulfill the Great Commission in the power of the Holy Spirit by winning people to faith in Jesus Christ, building them in their faith and sending them to win, build and send others; and helping the Body of Christ do evangelism and discipleship.

Contact: Liz Christian
---
Partner Ministries
We have many partner ministries in Columbus and throughout the United States. These ministries pray for us, volunteer to help feed, mentor, or otherwise support our students, and offer financial assistance to campus ministries. If you are interested in being a partner with Capital, please email Pastor Drew Tucker. 
---
Service Opportunities
The Center for Faith and Learning partners with organizations throughout Columbus. If you would have any ideas for service opportunities, please feel free to contact. Community partnerships with local partners including First English Lutheran Church, Lutheran Social Services of Central Ohio, Dreams on Horseback, the Bexley Day of Kindness, and God's Work, Our Hands Sunday.
Alternative Spring Break Trips, where we engage communities to learn and serve alongside locals in other parts of the country and world. Ecumenical Advocacy Days and local advocacy opportunities with One Ohio Now.
---
Multimedia
Presentations from the Hinges Conference and other videos can be found on our YouTube page. Here's one example from a past Hinges Conference.