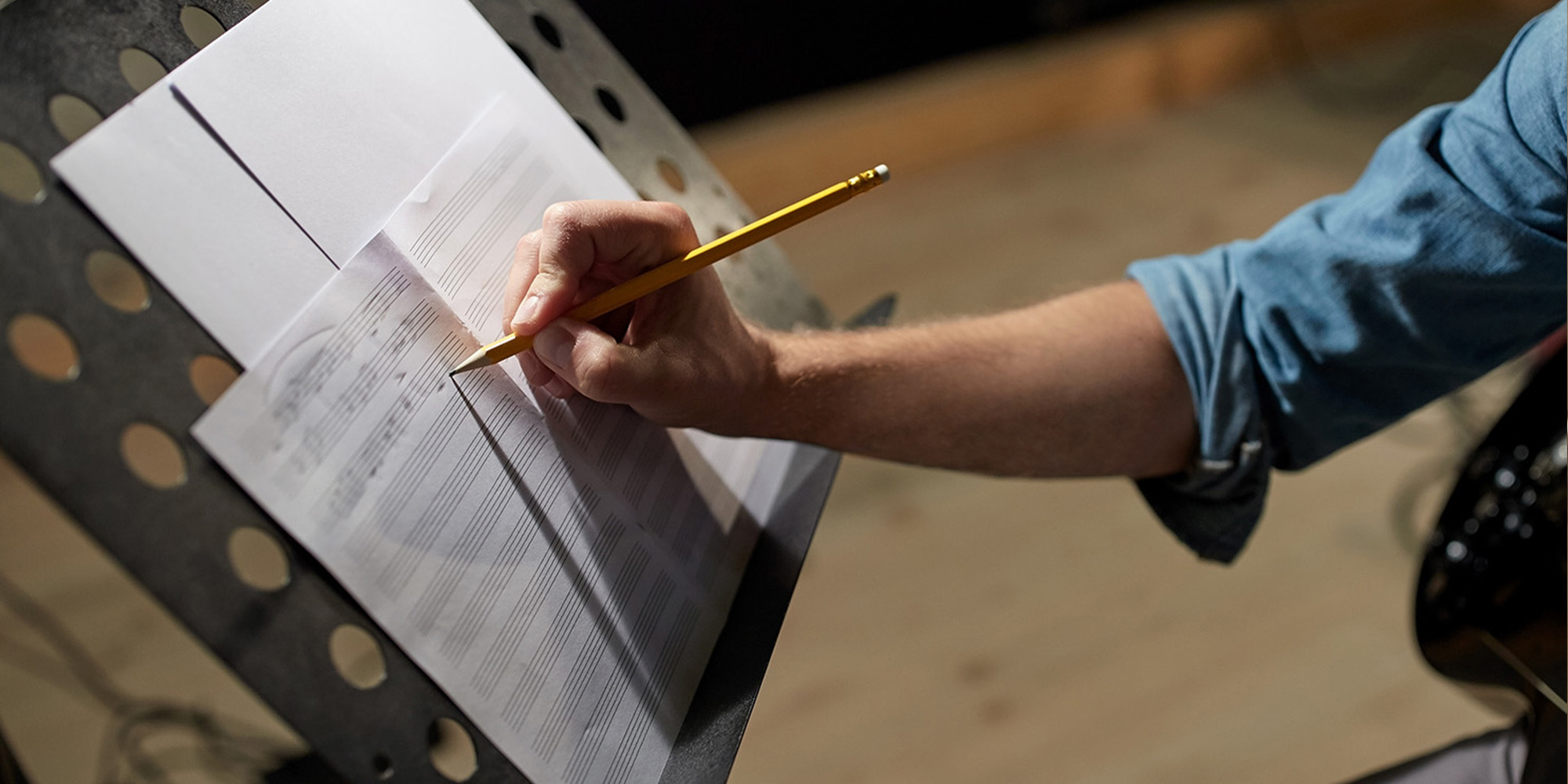 Composition
At the Conservatory at Capital, you'll have abundant opportunities to grow your skills and share your talent. In addition to extensive classroom training, you'll collaborate with fellow student musicians who will bring your work to performance in one of the Conservatory's dozens of ensembles. As a composition student, you'll have complete access to our music studios to experience your work by listening and then working to achieve the sound and mix you desire. This emphasis on performance and production in a variety of genres is what makes studying composition at Capital unique.
Our faculty are world-class composers whose work as practicing musicians and arrangers will greatly enhance your learning and your work.The composition degree program is accredited by the National Association of Schools of Music (NASM).
What can you do with a degree in this academic area?
Composing
Film and Specialty Composing
Arts Administration
Music Production
Theatre Management and Ownership
1:1
---
Training with Composition Faculty
90+
---
Ensembles. Daily Performances.
Multiple
---
Training in Multiple Styles of Music
Explore this Program
Experiential Learning
There's always something happening in the Conservatory. Weekly student recitals, master classes, ensemble rehearsals, and live concerts provide limitless opportunities where you can hear your music performed. In fact, there are more than 200 performances each year at the Conservatory. And with more than 50 performing ensembles, your efforts are collaborative as you work with your fellow musicians in creating something remarkable.
The NOW MUSIC Festival is the Conservatory's annual celebration of contemporary music. The Festival showcases the music of living composers and features works by guest, faculty and Capital student composers. This weeklong event is one of the Midwest's most comprehensive and diverse offerings of contemporary music. Best of all, it's one more way for Capital to feature the creative work of our rising talent.
Program Philosophy
At Capital, we seek out diversity in all we do. Music is no exception. In our composition program, we value all styles of music. You'll be encouraged to become fluent in these varied styles of music to strengthen your creativity and expand your thinking. Beginning your first year, you'll study theory, history, orchestration, arranging, audio production, and more. You'll then apply your skills in our state-of-the-art recording and MIDI-based electronic music studios. And because we are located next door to Columbus, you'll tap into connections with professional ensembles and musicians, giving you opportunities to learn and perform with music artists of every style.
Admission and Audition
Students planning to study Composition need to complete a two-part process to gain admittance to the program.
Submit your admission application to Capital University along with the required supporting documents.
Once you are academically admitted to Capital University, you will be able to submit an audition application and register for your audition date by clicking on the reply form found on your status page.
For specific audition dates and requirements by instrument or area of interest, please use the Emphasis Requirements tool.
Our Faculty
The faculty at the Conservatory are renowned and respected musicians who themselves are composers and arrangers, nationally and internationally. Their experience, musicianship, and talent are integrated within their curriculum and in your Conservatory experience. And because their talents and music specialties are varied, your studies will give you the opportunity to explore diverse music styles and prepare you to use your talents in any number of ways. We invite you to meet your faculty (link to CON faculty page?) and learn why we're proud to have them Capital their home.
Sample Classes
Composition Lessons
Music Theory and Audiation
Keyboard
Electronic Composition
Intro to Music Technology
Instrumentation and Orchestration
"Growing up in Lebanon and being a musician fascinated by jazz, I planned to go to the U.S., the birthplace of jazz. My teacher in Lebanon, was a Capital alum. He told me about Capital's Jazz Studies program. Professor Bob Breithaupt leads a series of summer drum workshops in Lebanon that I had attended. Meeting Bob gave me a better perspective on Capital's program and so I applied. In 2018, I transferred and flew from Lebanon to Columbus to attend Capital."
-Ayman Abi Kheir, Jazz Studies, Class of 2020