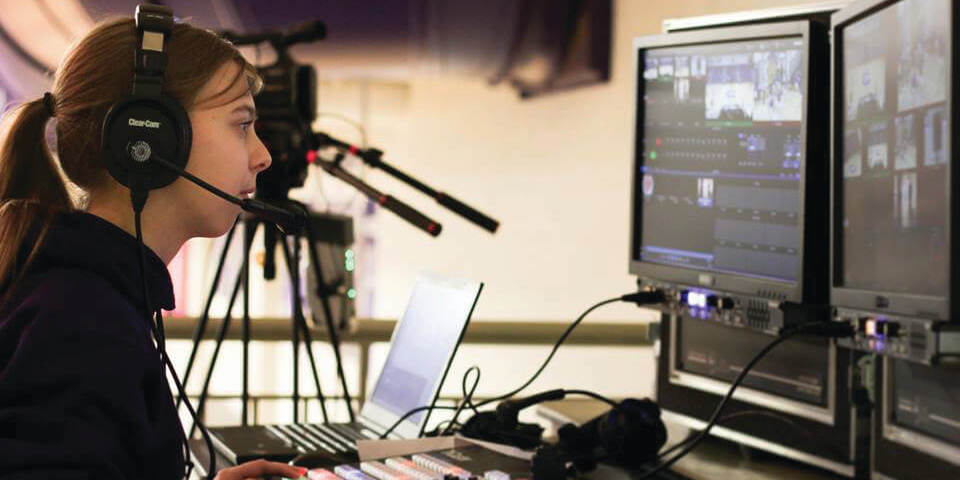 Film and Media Production
If you're excited about making video or film, you should consider our program in Film and Media Production, which prepares students like you for careers in video production, media, and the creative industries. With specific career-focused courses and a liberal arts background, you will acquire the skills and knowledge to effectively convey your message or tell your story. During your time at Capital, you will work on real-world media projects to prepare you for a future in your chosen career. Capital's close proximity to state government, multinational businesses, media companies, and nonprofit organizations offers our students opportunities to gain professional experience.
What can you do with a degree in this academic area?
Media Specialist
Videographer
Video Production Associate
Video Editor
Communications Manager
Digital Content Specialist
Studio Manager
Creative Director
Digital Production Operator
12:1
---
Student to Faculty Ratio
94%
---
Of Our Alumni Are Employed Or In Grad School Within Six Months Of Graduation
1:1
---
Faculty Advising from Start to Finish
Explore This Program
Experiential Learning
Taught through high-impact practices such as internships, undergraduate research projects, and client-based immersion class, students are prepared for the professional world. With easy access and close connections to Columbus, you can expect to intern at places like PromoWest Productions, Columbus Crew, CD92.9-FM, Mills James Productions, OhioHealth, Columbus Zoo, Spectrum News 1, and many more. Experiential learning is an important step in your academic journey at Capital and many students graduate having completed more than one internship.
Program Philosophy
As a Film and Media Production major, you'll have many opportunities to work on real-world media projects to build your visual eye, portfolio, and professionalism. You'll be ready to be employed in creative media industries right after graduation or go to graduate school. The program delivers a creative, scholarly, and skilled approach to creating and studying narrative media. From state-of-the art equipment and professional faculty, Capital students earning a Film and Media Production degree are prepared for careers in video production, media, and creative industries.
Pre-Professional Courses
On-campus experiential learning opportunities let you try a career on for size, like being a DJ for our campus radio station, WXCU; creating content for CapTV; or participating in Filmmakers. Faculty work directly with students to explore academic and career interests. As instructors, advisors, and mentors, the faculty are dedicated to each and every student. Even outside of the immersion courses, Capital students take courses designed to prepare them to be a professional communicator.
Sample Classes
Media and the Creative Process
Media Writing
Color Grading
Video Production
Creative Immersion
Foley Art and ADR
Internship
TV Studio
The TV Studio serves as a production studio for students majoring in Film and Media Production as well as the broader campus community. The studio is equipped with a full LED lighting system, 36 x 24 ft. two-walled infinity cyclorama, 24 ft. green screen, 360-degree curtain track with two black, one green and one tan curtain.
Radio Station
The Radio Station is home to WXCU Radio, a student-led radio station featuring a commercial-style alternative format. The station is equipped with the latest radio broadcasting technology, including both production and playback equipment currently used by broadcast stations in Columbus.
Film and Media Production Lab
The Film and Media Production lab is outfitted with Mac computers, the Adobe CC Suite, Final Draft for screenwriting, DaVinci Resolve for color grading, and a 7.1 surround sound audio system, including two whisper rooms for audio recording.
Equipment Room
Equipment available for student check out include BlackMagic Design cameras, Sony NX5 video cameras, and Canon DSLRs, LED light panels, Zoom audio recorders, Wacom tablets, DJI drone, Ronin gimbal, and other professional gear are also available.