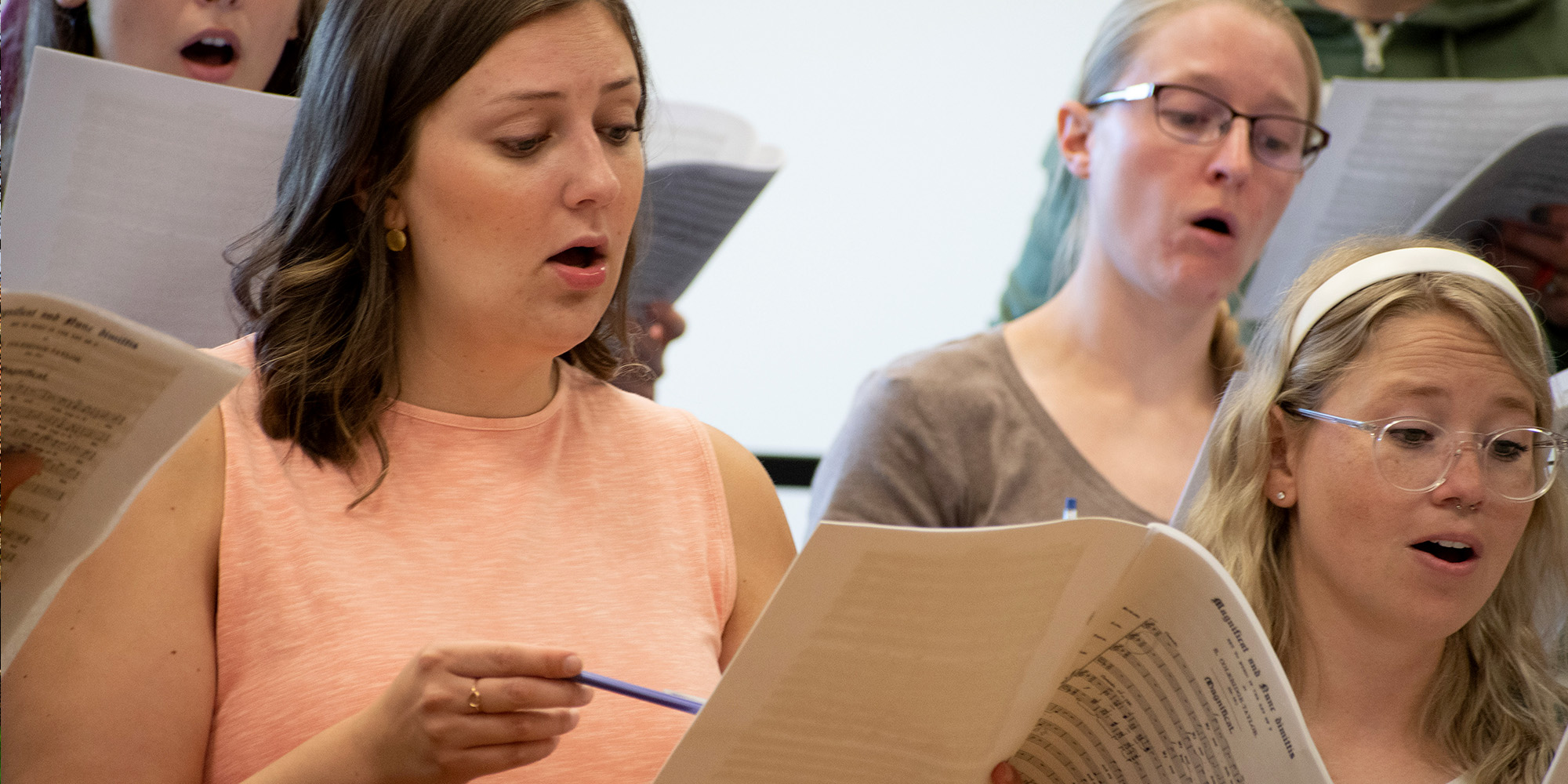 Master of Music in Music Education
Your love of music runs deep and has shaped the course of your life – and your career. Helping students discover how music can inspire and connect us to each other is your life's work. And now as a teacher, you want to learn, improve, and grow. It is this spirit that prompts many music educators to pursue their Master of Music in Music Education (MMME) at Capital's prestigious Conservatory of Music. Our unique three-summer programming allows you to put your graduate training to work in the fall in your own classroom and with your own students.
What can you do with a degree in this academic area?
K-12 Music Teacher (Masters level)
Postsecondary Music Teacher
Music Director/Conductor
Music Ministry Director
Private Teacher
Author
3
---
Summers to your MMME degree
12:1
---
Student to Faculty Ratio
100+
---
Years of Music at Capital's Conservatory of Music
Explore this Program
About the Capital MMME
The MMME flexible summer program is flexible and designed for working teachers. We offer two 3-week sessions in June and July that are held Monday - Friday in the Conservatory of Music. You can attend one session or both, depending on your summer availability. The degree can be completed in as few as three summers, provided all general requirements are met. And while most of our students commute to campus, we do offer affordable campus housing options that will allow you to keep company with fellow musicians at our serene campus location. The Capital MMME is accredited by the National Association of Schools of Music (NASM) and the Organization of American Kodaly Educators.
Program Philosophy
At Capital, you'll learn from and be mentored by faculty who themselves are master musicians, composers, active performers and educators. We count it a great privilege to spend our summer months with working music teachers who become our students for a brief time. In our classes and workshops, we encourage our students to dig  deeper, perfect their musicianship, and grow as music professionals. Our smaller class sizes mean that you'll benefit from individualized training and the ability to  build strong personal and professional associations with fellow students and faculty.
Where You'll Learn
Capital provides all the spaces you need to learn, practice, and perform. We offer 36 practice rooms, state-of-the-art recording studios, beautiful performances spaces, and classrooms equipped with the latest technology.
Our main campus is located in Bexley, Ohio, a quaint, tree-lined city located just minutes from downtown Columbus. The area offers an active music, arts, recreational and social calendar during the summer that you can enjoy with class members, family, and friends.
Admission Requirements
Thank you for your interest in the MMME programs. You can apply online and applications are reviewed on a rolling basis. Application deadline is June 1, though application review and admission will continue beyond this date as space permits. In addition to the application, please submit the following:
A 200-300 word typed writing sample summarizing your current competencies and skills, reasons for seeking graduate education, and areas of competency you wish to enhance in graduate school. 

Your resume or curriculum vitae.

Official transcripts from all previous undergraduate and graduate coursework. Submit transcripts to the Adult and Graduate Education Office. International transcripts require a course by course World Education Services evaluation, unless a valid U.S. degree was awarded. In those cases, official transcripts are still required.

Names of three references to whom you have requested to write letters of recommendation. Letters of recommendation should address your academic and musical skills and your potential for success in graduate school.

International students must demonstrate language proficiency by meeting one of the following requirements:

Test language proficiency score

TOEFL: paper 550

TOEFL: computer 213

TOEFL: internet-based 80

IELTS: 6.0
For information about the Free Application for Federal Student Aid (FAFSA) and other forms of aid, contact the Financial Aid Office. Application for financial assistance does not influence the admission decision.