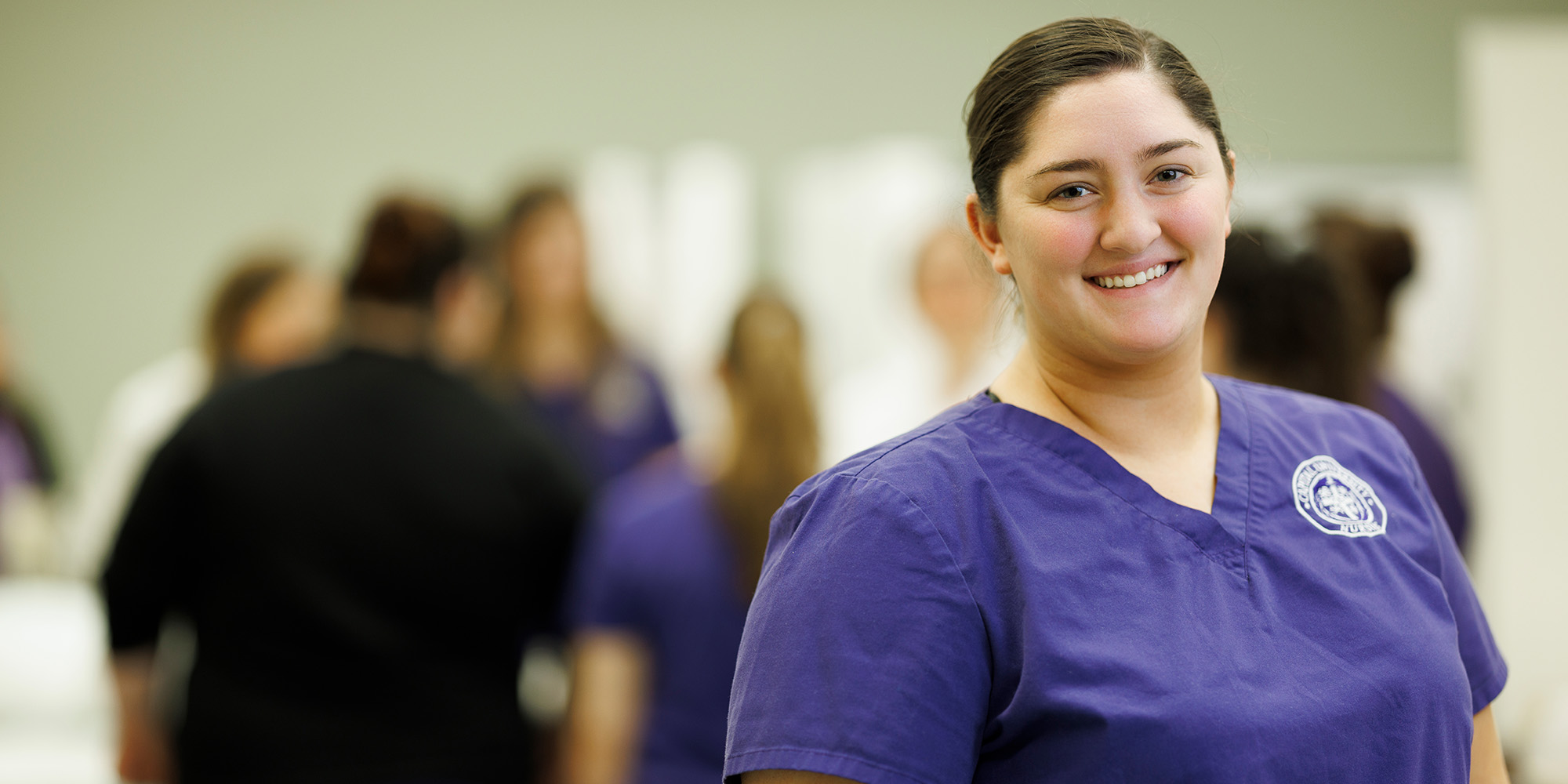 Accelerated Bachelor of Science in Nursing
As the demand for nursing professionals grows, Capital's reputation for excellence in nursing education fosters the growth of future nurse leaders. The Accelerated Bachelor of Science in Nursing (ABNS) is a program for individuals who have completed a bachelor's degree in a non-nursing field, but desire to have a career in nursing. The curriculum is designed to provide you with a faster-track to nursing licensure. The program can be completed in as few as 20 months in either a traditional daytime track or a flexible online/hybrid schedule. Coursework, combined with clinical experience with our area health partners, will prepare you for a career that will change and impact lives in the best ways.
What can you do with a degree in this academic area?
Hospital or Clinic Nurse
Outpatient Surgical & Treatment Centers
Occupational Health
Home Care Health
Community/Public Health
Hospice
12:1
---
Student to Faculty Ratio
99%
---
of Students Who Attend Capital Receive Aid and/or Scholarship
1:1
---
Faculty Advising from Start to Finish
Two Tracks to Fit Your Lifestyle
Accelerated BSN Daytime Track
Student cohorts begin every August and will finish five (5) semesters later that following May. Students should have their admission application and all required forms submitted by June 1 to be considered for admission for the fall semester. Anywhere between 25-50 students will make up the cohort each year.
Classes, labs, and clinicals will be offered during the day throughout the week (four days a week, usually). Each semester will consist of 12-15 credit hours, including clinical experiences which begin in the first semester.
Clinical experiences will take place in clinical sites all over the Columbus region, including all major hospitals in the area.
Accelerated BSN Flexible Hybrid Track
Our flexible hybrid option will be offered every fall and will finish in 5 semesters. Students should have their admission application and all required forms submitted by June 1 to be considered for admission for the fall semester. Up to 32 students will make up this cohort, as space permits.
Lectures will be delivered in an online-hybrid format with some courses offered online, and other courses meeting face to face. Students can expect to be on campus on Wednesdays from 4-9 p.m. for class and lab.
Clinicals are offered on Thursdays or Saturdays from 7 a.m.-7 p.m., (terms 4 and 5 may require weekday clinicals). Clinical experiences will take place in clinical sites all over the Columbus region, including all major hospitals in the area. Students will indicate preference of clinical day at the onset of the program.
This track will allow students to work full time, if desired, and still go through the program on a full time basis. Students should have some flexibility with their schedules, as weekday commitments can be necessary at times during the program.
What Does the Program Look Like?
Applying to the Program
Admission Requirements
Please review the criteria and the admission procedures before completing your application.
A completed baccalaureate or higher degree from a regionally accredited college or university.  

Cumulative 3.0 GPA and an average 2.75 GPA in microbiology, human anatomy, human physiology and organic/biochemistry. Applicants who don't meet these criteria will be reviewed for admission on a case-by-case basis.

Prerequisites may be completed at any U.S. accredited college or university. All prerequisites must be completed by the end of the semester prior to the semester you are taking classes at Capital. 

Life Span Development. Must encompass conception through death of humans. 

Will accept one course or compilation of courses.
The below listed courses need to be completed in the last five years*:
Microbiology

Chemistry: one semester of biological chemistry or two semesters of general chemistry

Human Anatomy: course containing lab hours 

Human Physiology: course containing lab hours
*If the applicant is currently working in a health care or science field that requires frequent, current use of the sciences required as prerequisites, the applicant may ask for a waiver of the five-year requirement. A waiver request requires detailed information regarding the applicant's field of employment and the method by which the applicant has remained current in science content in microbiology, biological chemistry, human anatomy, and/or human physiology. The decision of the ABSN Admissions Committee is final in this matter. Contact Admission for specific questions.
Admission Checklist
Below is a short checklist on the actions required to complete the accelerated BSN application:
Submit the accelerated BSN online application.
Submit a separate 1-2 page, single-spaced essay and answer the following questions:

What is your motivation to pursue a second degree in nursing?
What are your future goals as a nurse?
Why Capital?

Submit three professional recommendation forms, attached with reference letters.
Submit a current resumé.
Submit all official transcripts to:
Capital University Admission Office
1 College and Main
Columbus, OH 43209
email: admission@capital.edu 
Admission Deadlines
Applications are reviewed on a rolling basis. We recommend adhering to the following schedule, though application review and admission will continue beyond these dates as space permits.
Accelerated BSN Daytime Track and Hybrid Track Application Deadlines
March 15: Priority deadline for application. All required forms due.
June 1: Final deadline for application and all required forms.
Cohort begins in August.
Next Steps After Applying
After the March 15 application deadline, all application portfolios will be sent to the School of Nursing for review. You will receive an email from the Adult and Graduate Education office indicating that your portfolio has been received and forwarded. For accepted students, a day-long orientation will be scheduled prior to the start of Fall semester.
Please note: If graduation from a baccalaureate degree program is pending, final transcript must be received by the Adult and Graduate Education office by June 15th. Proof of enrollment in final prerequisite courses must be included in your application portfolio and received by March 15.
Please contact the Admission office at 614-236-6101 or email admission@capital.edu with questions.
Nursing is a practice profession and we require a level of accountability as it relates to general health and safety and safety of the public. The  School of Nursing policies, health care agency policies, and state regulations all affect requirements for admitted nursing students and/or graduates.
Hepatitis B series. This series of immunizations, given in three doses, spaced at specific intervals. Please contact your primary care physician or a city or county health department to receive the series. At a minimum, the first two injections must be completed prior to beginning the first clinical course and the series must be completed for progression to Spring semester.
Criminal Record check. Hospitals and health care agencies require evidence of a satisfactory criminal record check as a condition for clinical practice by students. All nursing students will need to be fingerprinted through both the BCI and FBI prior to clinical experiences. A second background check is required by the Ohio Board of Nursing prior to taking the NCLEX-RN® licensure exam. You can find a webcheck location near you by visitinghttp://www.ohioattorneygeneral.gov/backgroundcheck.
Drug-urine screen. This required test will be conducted by an independent contractor on-site at the Nursing Department prior to the first clinical experience.  
Accreditation
The baccalaureate degree program in Nursing and the master's degree program in Nursing at Capital are accredited by the Commission on Collegiate Nursing Education (CCNE). Officially recognized by the U.S. Secretary of Education as a national accreditation agency, the CCNE is an autonomous accrediting agency, contributing to the improvement of the public's health. CCNE ensures the quality and integrity of baccalaureate, graduate, and residency/fellowship programs in nursing.

"At Capital, I have had wonderful clinical opportunities and have found the faculty to be encouraging and supportive. They really want to see students succeed! I plan to work for 3-5 years and then return to Capital for my master's degree. The nursing program is thorough and challenging, but if you stay organized and have good study habits, you will succeed."
-Kritika Gerard, Accelerated BSN, Class of 2021
Frequently Asked Questions
How long does the program take to complete?
Capital University offers two options for our accelerated bachelor of science in nursing. Both programs will have a fall start date.
Our Flexible Hybrid Option blends independent online learning with on-campus face-to-face delivery options as well as clinical experiences. Students will be on campus one evening (typically Wednesdays from 4-9p.m.) a week and will have one 12 hour clinical day (Thursday or Saturday) in one of our local clinical sites. This program is 5 semesters (20 Months).
The Regular Option offers a full-time traditional style on campus delivery where you will spend your days (usually 4 days per week) attending classes as well as immersed in clinical experiences. Regular time commitments on campus or in clinical locations typically take place M-F. Exact days and times vary by semester. This program is also 5 semesters (20 Months)
Where will my clinical experiences take place?
Capital has strong partnerships with over 80 area health care systems, including several Magnet® hospitals. Our students have clinical experiences at most major hospitals in Central Ohio including OhioHealth – Riverside, Grant, Dublin, etc.; OSU – The James, OSU East, Wexner Medical Center, Nationwide Children's, Mt Carmel St. Ann's as well as many other community partners. We are not affiliated with just one hospital, so students get a variety of experiences in many different facilities. This helps students decide where to target their career path when they graduate.
Nursing is an applied profession with skills that can't be learned in books. We place you in clinical experiences beginning your first semester. You will apply everything you learn in the classroom to real-life situations in a clinical setting. This enhances your technical skills and hones your cultural competence so you're fully prepared for a diverse working environment.
Can I specialize in a specific area of nursing?
Nursing is a great career opportunity with many different paths of specialization. At the undergraduate level, we believe in exploring many areas of nursing while keeping your options open. It is very common for students to come in set on a specific type of nursing and find themselves drawn to something else once they have had experience in a variety of clinical settings with several different mentors. We give you the tools to examine all of the possibilities that are open to you, so you will end up right where you are meant to be.
Will I be able to work while pursuing this degree?
We believe in each student as an individual, so each student has a unique experience. Our program is accelerated, so students need to take their studies seriously, but we work at a pace where students can be successful while still having some time for family and work. The length of our program is very intentional, because we believe strongly in work-life balance to go along with our holistic philosophy of nursing.
The reality is that most students have to work at least part-time while pursuing this degree. Good planning and time management skills are critical for success.
Where is Capital University located?
We are located in Bexley, Ohio which is a suburb of Columbus - the 14th largest city in the United States. Our pedestrian friendly "Main Street" has everything you need to make your time on campus enjoyable. Unique shops, local restaurants with every type of food you can imagine and a multi-level grocery store that keeps with the cozy aesthetic of our historic neighborhood. Bexley and Capital are a great place to live and learn – all within a stone's throw of some of the best medical facilities in the country. Our students definitely have the best of both worlds.
What are the prerequisites for the program?
Applicants must have a bachelor's degree (in any subject area) from any regionally accredited college or university with an overall GPA of 3.0 or higher (2.75 in the 4 required science courses).
Prerequisites may be completed at any U.S. accredited college or university. We have a list of suggestions on our website.
Microbiology
Human Anatomy*
Human Physiology*
Biochemistry
Lifespan Development/Human Growth and Development – needs to cover the entire lifespan from conception through death.
*We will accept A&P I and A&P II (two courses) in place of Human Anatomy & Human Physiology. Sciences should include labs. If the courses are taken at different schools, we need to review course syllabi to make sure they have all of the content covered. The four science courses need to be completed within 5 years of starting the program.
What does it mean that Capital's program has a holistic focus?
Holistic nursing incorporates more than just taking care of the physical aspects of healing an individual. It involves seeing the whole person including their mind, body and spirit to care for them.
There is also an element of self-care involved with holistic nursing. Work-life balance is an important part of who we are. We see each of our students as a unique individual who bring their varied life experiences to our program. This diversity makes all of us better nurses.
Once you complete our program, you will have covered the course content necessary to sit for the holistic nurse certification. This will give you an added layer of credentialing to complement your RN/BSN degree.
What is something that is unique to Capital's program?
As a part of our curriculum, you will complete 3 master's level nursing courses, so you will get the most out of your time and money. Students study healthcare statistics, research and evidence based practice and healthcare informatics and technology. Graduates are on a fast track to completing one of Capital's MSN concentrates in Administration, Education or Legal Studies. It is also a possibility that the courses will transfer to other master's programs. It is added value to an investment you are already making.