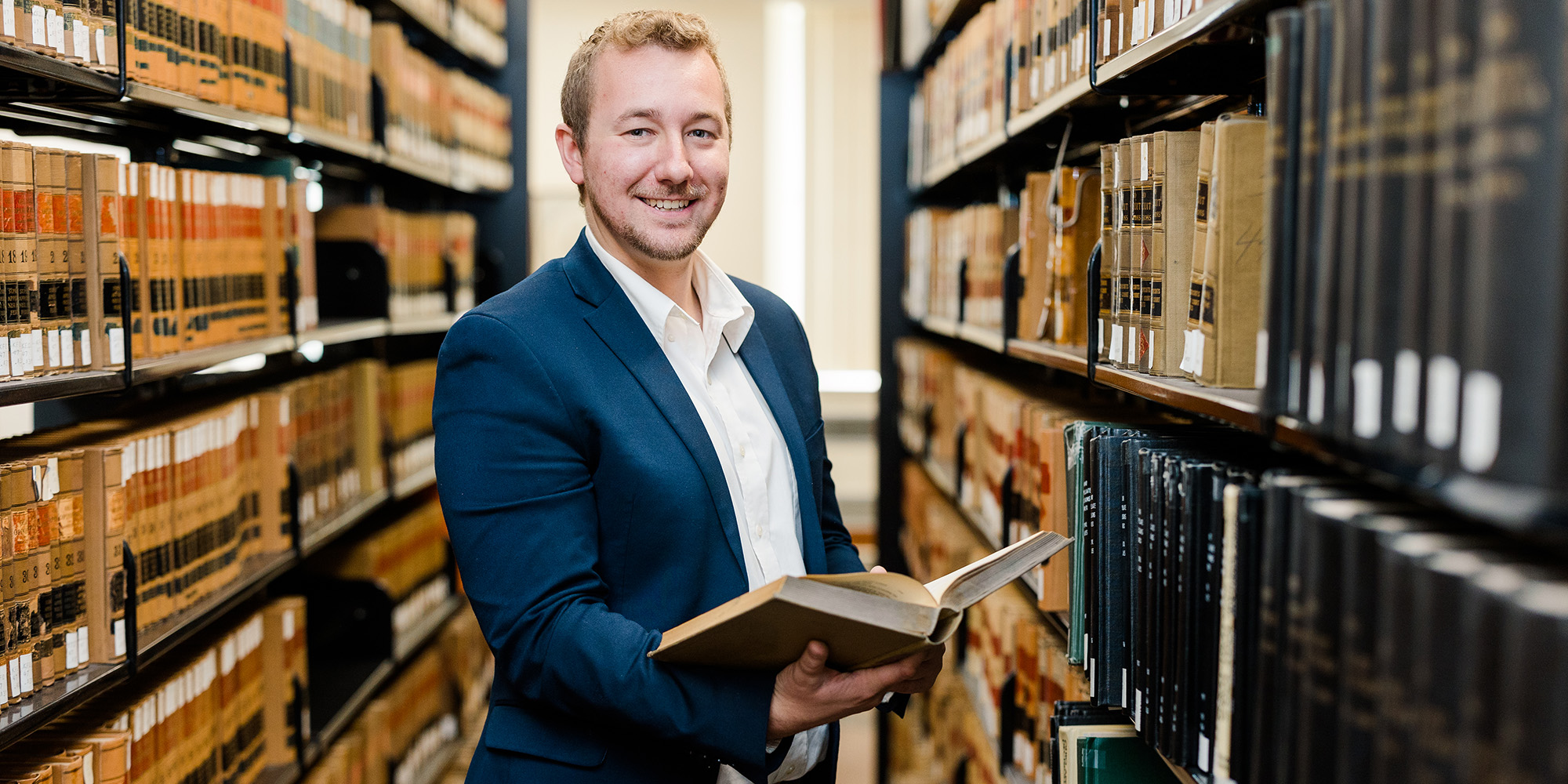 Pre-Law (3+3 Accelerated Program)
Those who want a career in law know it's about more than a title, paycheck and an office with a view. It's a calling to improve lives, protect the marginalized and govern the principles and doctrine that shape individual neighborhoods and the world. It's not an easy path. It shouldn't be. With Capital's 3+3 Pre-Law Program, students can earn their B.A./J.D. in six years and have access to the student support resources they need along the way. Capital students save a year of time and tuition, and gain the knowledge, professional skills, experience and support they need to be successful at Capital, in law school and in the legal profession.
What can you do with a degree in this academic area?
Lawyer
Prosecuting Attorney
Politician
Legal Consultant
Tax Attorney
Judge
Law Professor
Mediator
1st
---
Program of Its Kind in Ohio
12:1
---
Student to Faculty Ratio
60+
---
Majors to Choose From
Explore this Program
Experiential Learning
With Ohio's capital city only minutes away, Capital students have unique access to the best law firms in central Ohio. The internship opportunities to get real-world experience in areas of government and the justice system are endless. Capital Law School alumni are always looking for interns or new hires and they know that Capital has only the best. Students are encouraged to broaden their search by exploring other internship opportunities in places like Washington D.C. or Chicago. Faculty advisors are often the first ones to make invaluable introductions for internships or even first jobs.
Program Philosophy
In the first three years, Capital students work closely with their advisor and take the courses needed to fulfill bachelor's degree requirements. That includes general education, which is grounded in the liberal arts, and courses for the chosen major. During the junior year, students apply to Capital Law School and, if accepted, they combine senior year with first year of law school. Over the next two years Capital students complete the remaining law degree requirements and graduate with both a Bachelor of Arts degree and a Juris Doctor degree. Thousands of lives have been transformed by the teaching and learning that takes place in Capital classrooms and far beyond them.
Pre-Professional
Pre-professional means that students would like to prepare for a specific career. It's a set of courses that each student should take if they plan on taking the exam and entering Law school. It is important to note that a pre-professional plan is not a major, it's a path. Capital students can major in Instrumental Performance and be Pre-law at the same time. Most students attempt to major in an area that will complement their career choice.
Eligibility
Eligible student must meet the following requirements:
Be admitted to Capital University.
Complete a minimum of 100 undergraduate semester hours, 60 credit hours of which must have been earned from Capital University. Transfer credit, credit by examination, and credit recognized through prior learning won't be counted.
Complete all general education, major and minor requirements. Note that the requirements for some courses of study may exceed 100 credit hours.
Meet the presumptive requirements for admission to the Capital University Law School.
Sample Classes
General education requirements

Reading and Writing
Oral Communication
Introduction to Ethics
Cultural Pluralism
Global Systems

Courses that help prepare for the LSAT
"I selected Capital for two reasons. First, I had heard great things about, and met individuals who spoke highly of, the law school. Secondly, Capital has a unique '3+3 Bachelor-to-Law program,' which streamlines the undergraduate degree in 3 years for an early start on the juris doctor. The 3+3 will make my career goal of becoming a contract attorney that much more achievable. Since then, my decision has been reassured because of my involvement in close-knit communities and personalized classes."
-Marshall Evans, Communication and 3+3 Pre-Law. Class of 2021