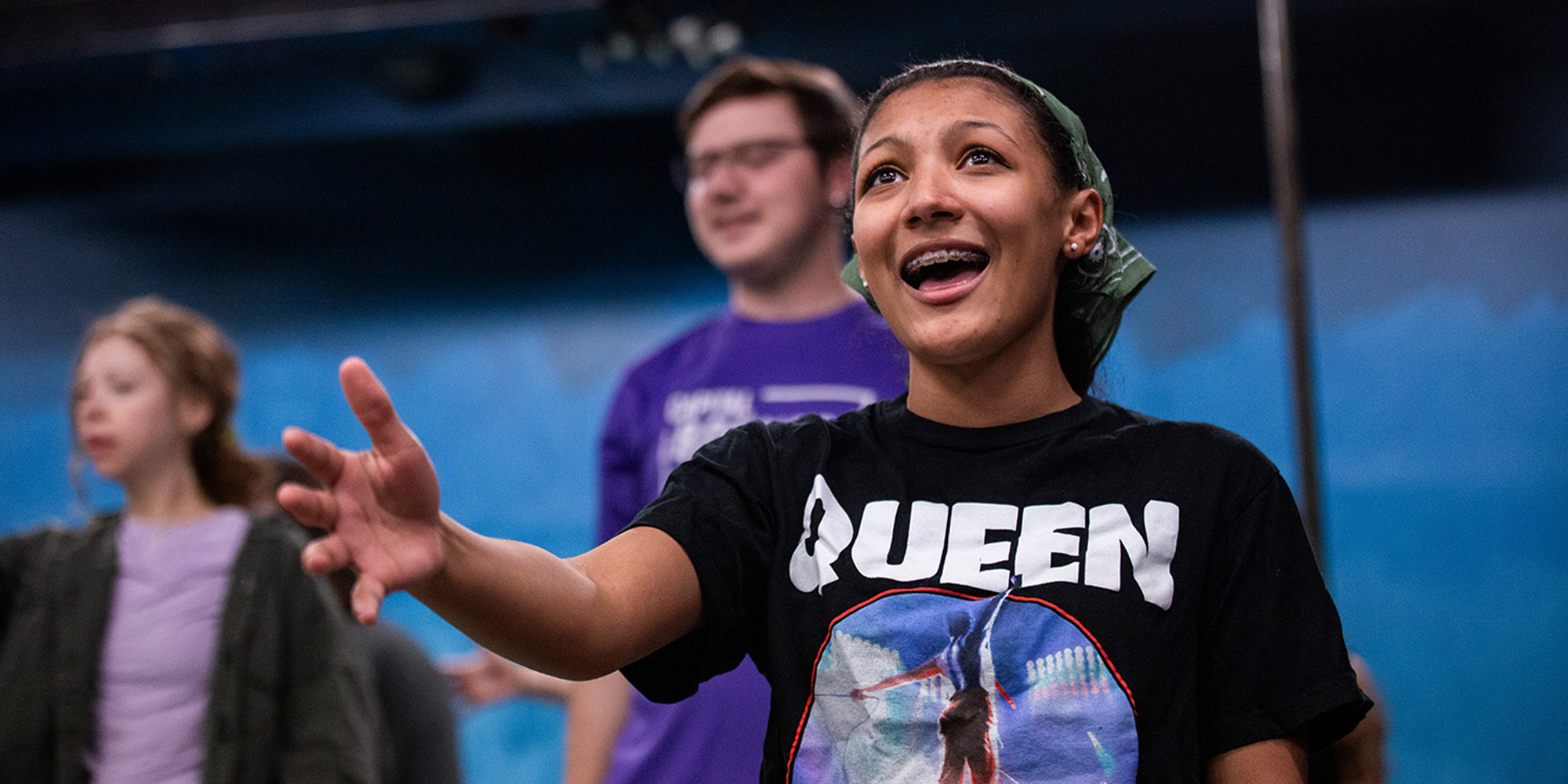 Theatre Studies
Theatre is a collaborative art. Each person in a production plays an important role, working and performing together to create something memorable and truly remarkable. The art involved in such work is obviously important, but the communication that takes place between artists and audience is also a key to creating dynamic art. At Capital, Theatre Studies is a co-curricular program. This means that you'll gain a strong liberal arts foundation in your coursework, and then you'll practice your learning through participating in an active production season. If acting is your passion, you may find yourself in a role on the main stage or even participating in ensemble and group work in the prestigious Conservatory of Music. If your interests are in managing or creating productions, you'll have numerous experiences designing scenery, directing plays, running sound, and marketing our shows.
What can you do with a degree in this academic area?
Stage Manager
Theatre Education Director
Touring Actor and/or Director
Playwright
Costume Specialist
Scene Shop Manager
100+
---
Years of Theatre at Capital University
12:1
---
Student to Faculty Ratio
1
---
On Stage or Backstage from Day One
Explore this Program
Experiential Learning
As a Theatre Studies major, we supplement class instruction with pre-professional activities designed to give you personalized, hands-on learning opportunities. You can earn academic credit onstage while taking center stage in a University Theatre production or an improv show. Or if the backstage is your performance space, you can earn credit as you design, build, direct, or stage manage in our theatre or at an outside community venue. The department sponsors four main stage shows a season in the Cabaret Theatre and auditions and participation in theatre events are open to the entire campus community. To round out your learning, the department sponsors a Reader's Theatre Program and the Fat Tuesday Debutantes, our improvisational comedy group, and more. Most theatre students pursue internships and work with summer theatres during non-academic periods.
Your Place to Perform
Capital's own Cabaret Theatre is an intimate performance venue offering a black-box space located in the Harry C. Moores Student Union. The theatre seats 120 guests with the option for flexible seating and staging. The full theatre is equipped with a scene shop, control booth, and a production office/design lab. The spaces combine to provide students, faculty and the Capital community the opportunity to collaborate on a variety of theatrical productions, from musicals and contemporary drama, to Shakespeare and premiers of original work.
Where You'll Go
Our Theatre Studies graduates are active professionals in the world of theatre. So if your ambitions take you to Broadway or if your path keeps you local, there are numerous possibilities. Here is a sample of what our students have done after graduation:
Stage managed for opera companies
Director of Education, Columbus Children's Theatre
Toured with Madcap Puppet Theatre
Opened in a Broadway musical
Published plays
Managed a scene shop
Designed and costumed shows
Worked at Schell Scenic Studio and Costume Specialists
Served on the board of directors for a community theatre
Earned Equity Union membership
Sample Classes
Storytelling
Performance Studies
Acting
Directing
Stagecraft
Scenic Design
"When I started at Capital, I had no idea where that journey would take me. I met countless kind, dedicated, hardworking, talented, highly intelligent people. TheCapFam is real. My very first film role was in a student film at Capital and it was in those student films and productions at the Cabaret Theatre that I developed and sharpened my skills, both as an actor and as a director."
-Cedric Gegel, Theatre Studies, Class of 2017