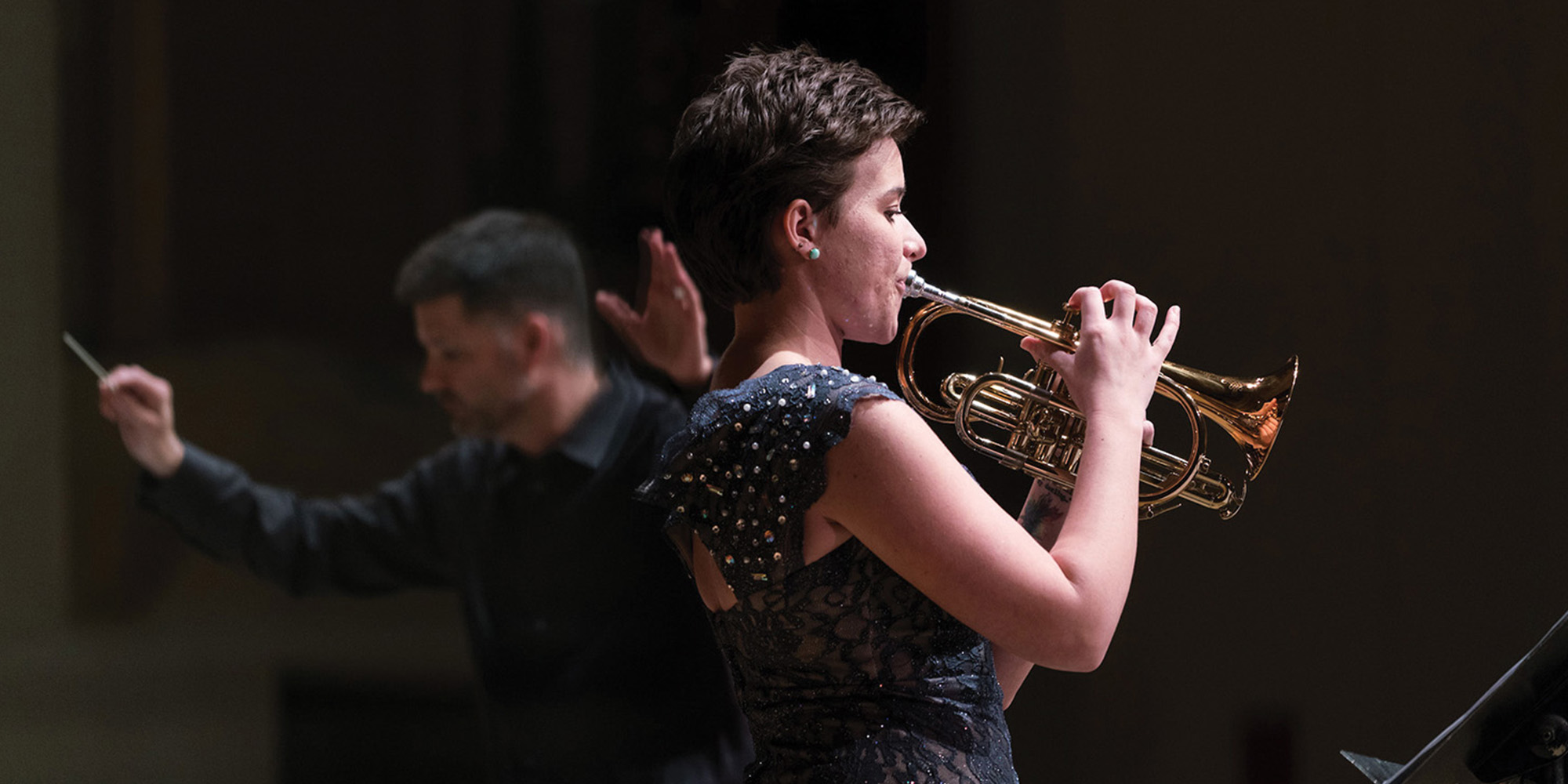 Performance
Whether it's an audience of three or three thousand, you were born to perform. And life on the stage is where it all happens for you. A Bachelor of Music Performance degree emphasizes the study of performance in one of four areas: instrumental, organ, piano, or vocal. Each area includes wide-ranging experiences from solo and stage performances, to participating in ensembles of all sizes and musical combinations. Added to that is a strong core music curriculum taught by some of the finest professors of music. Combining the depth of our Conservatory education with broad-based academic study through Capital's signature learning courses, you'll graduate as a well-trained and adaptable musician.
1:1
---
Mentoring Relationships
Top
---
Placement in Regional and National Competitions
90+
---
Ensembles. Daily Performances.
Explore this Program
Experiential Learning
As a performance major, a wide range of performance experiences are a foundational part of your curriculum. The Conservatory hosts more than 200 events annually and sponsors more than 50 student ensembles. In addition to group performance, your performance career is also highly personal. All performance students complete both a half and full year recital during their junior and senior years. Because we are located right next to Columbus, Ohio, you'll have additional opportunities to perform with local arts organizations and churches. Finally, we'll expand your audiences and your professional network by sponsoring your participation in notable regional and national music competitions. The possibilities are waiting for you.
Program Philosophy
Unrivaled faculty support, personalized instruction, and commitment to performance experiences are the hallmarks of the Performance degree. Because each student has unique talents and career goals, we approach your education and training, individually. You'll have the opportunity to learn from faculty who are not only top-tier educators, but are active and renown performers, composers, and musicians. Their talent is integrated into their teaching, and it shows in every class, every rehearsal, and every performance.
The Performance program is accredited by the National Association of Schools of Music (NASM).
Admission and Audition
Students planning to study Performance need to complete a two-part process to gain admittance to the program.
Submit your admission application to Capital University along with the required supporting documents.
Once you are academically admitted to Capital University, you will be able to submit an audition application and register for your audition date by clicking on the reply form found on your status page.
For specific audition dates and requirements by instrument or area of interest, please use the Emphasis Requirements tool.
Sample Classes
Applied lessons on Principal Instrument
Music Theory and Audiation
Ensemble
Pedagogy
Music History
Conducting
World Music
"When I started at Capital, I didn't know what opportunities were in store for me. I got into the choir, began voice lessons, and fell in love with the culture. Even my college visit solidified to me that everyone who attended Capital had an unwavering kindness and driven energy about them. I knew that I needed a place that was going to have a community of students and faculty that supported me."
-Christopher Humbert, Vocal Performance. Class of 2019