Planning your Visit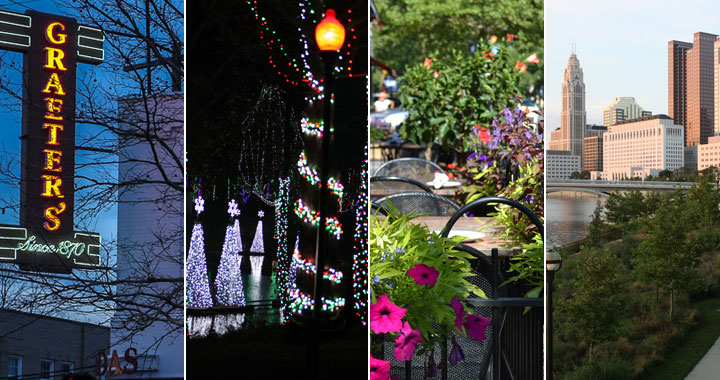 Capital calls Columbus home.
Our suburb is an escape from the city, but it's only minutes away. Bexley is one of Columbus' most historic neighborhoods. It's home to the governor's mansion. Main Street is marked with restaurants and coffee houses and an independent theater. There are tree-lined streets populated by architecturally stunning homes. And everything sits just steps away from the residence halls.
Must-Do's For Your Visit
Here are a few must-dos to keep in mind while you plan your visit:
Schedule a visit with a faculty member and sit in on a class to get a real sense of what makes a Capital learning experience different. Looking at the pretty buildings without exploring the classes inside is like buying a car without taking it for a test drive.
Take the time to talk to your student tour guide or other students taking the tour with you. You're sure to pick up good ideas, and finding out what other prospective students are thinking can often help you make your decision, too.  
Spend some time getting to know Bexley.  Down the tree-lined Main Street, we have award-winning pizza parlors, well-known ice cream shops, restaurants and coffee houses. As one of Columbus' most historic neighborhoods you will feel right at home with grocery stores, banks, salons and a pharmacy within walking distance.
Get to Know Columbus and Bexley
---
Places to Stay
Capital University does not endorse any of the following hotels. Please contact the hotel directly for recent pricing information.
Bexley Location
Bexley Bed & Breakfast
519 S. Drexel Ave
Columbus, Ohio 43209
614-203-7588
bexleybedandbreakfast.com
---
Downtown Columbus Locations
Courtyard by Marriott Columbus Downtown
Specify "Capital University Rate" 
Contact Sales Department for Group Rates 
35 West Spring Street 
Columbus, Ohio 43215 
614-228-3200
Hampton Inn & Suites Columbus Downtown
Specify "Capital University Rate" 
501 North High Street 
Columbus, Ohio 43210 
614-559-2000
Holiday Inn Columbus Downtown Capitol Square
Specify "Capital University Rate" 
175 East Town Street
Columbus, Ohio 43215 
614-221-3281
Red Roof Inn Columbus Downtown Convention Center
Specify "Capital University Rate code #616431" Contact Sales Department for Group Rates 
111 East Nationwide Boulevard 
Columbus, Ohio 43215 
614-224-6539
Fairfield Inn and Suites by Marriott Columbus New Albany 
Specify "Capital University Rate" 
Contact Sales Department for Group Rates 
4976 E Dublin Granville Rd. 
Columbus,OH 43081
614-855-9766
---
East Columbus Locations
Airport Embassy Suites - Easton Area 
Contact Sales Department for Group Rates 
2886 Airport Drive 
Columbus, OH 43219 
614-536-0500 
1-800-EMBASSY
Best Western-Airport
Specify "Capital University Rate" 
1450 Airpointe Drive 
Columbus, OH 43219 
Transportation provided to/from Capital
614-337-8400 
Candlewood Suites Hotel
Columbus Airport 590 Taylor Road 
Gahanna, Ohio 43230 
614-863-4033 
Columbus Airport Marriott 
Online code CKD1375 N. Cassady Avenue 
Columbus, Ohio 43219 
614-383-3687 
Country Inn and Suites 2900 Airport Drive 
Columbus, OH 43219 
614-478-2900 
Fax: 614-478-2900
Courtyard by Marriott Airport
Specify "Capital University" 
Contact Sales Department for Group Rates 
Transportation provided from Hotel to Capital 
2901 Airport Drive (Airport Drive & Cassady Ave) 
Columbus, Ohio 43219 
614-475-8530
Hampton Inn East
1890 Winderly Lane 
Pickerington, OH 43147
614-864-8383
Holiday Inn Express
460 Waterbury Court 
Gahanna, OH 43202 
614-428-8678 
Homewood Suites by Hilton
2880 Airport Drive 
Columbus, OH 43219 
614-428-8800
Staybridge Suites by Holiday Inn - Airport
2890 Airport Drive 
Columbus, Ohio 43219 
614-473-9888
---
North Columbus Locations
Hampton Inn 
Specify "Corporate Rate" 
3920 Tuller Road 
Columbus, OH 43017 
614-889-0573
Cloverleaf Residence
4130 Tuller Road 
Dublin, OH 43017 
614-766-7762