Today Capital. Tomorrow The Met.
Stage lights, curtain calls and enthusiastic applause. If you're a music student, that's what dreams are made of. At Capital's Conservatory of Music, we promise you will have numerous opportunities to showcase and evolve your talents in a wide variety of ensembles, regardless of your music major. In fact, we have ensembles of all shapes and sizes. Some perform on campus while others appear in Columbus, around the state, throughout the country and even in around the world. So take a bow. There's an ensemble experience waiting for you at the Conservatory. 
---
Chapel Choir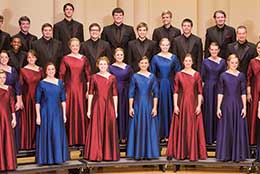 Since 1929, the Capital University Chapel Choir has upheld the rich Lutheran heritage of fine choral singing. This select mixed ensemble is the Conservatory's most advanced choir and is recognized as one of the outstanding elite college choral ensembles in the nation. The choir's long-standing touring tradition has sent them around the world, leveraging the transformative power of music and connecting people from diverse cultures. Recent national and international travel has included concerts in South Africa, Oman, Ireland, Belgium, the Netherlands, Washington D.C., Chicago, Kansas City, and New York City.
Under the direction of Dr. Lynda Hasseler since 1990, the Chapel Choir has been honored with invitations to perform for numerous state, regional, national and international conferences and conventions. The Chapel Choir was awarded the 2018 American Prize, Ernst Bacon Memorial Award for the Performance of American Music. Recent concert highlights include the world premiere performance of A Silence Haunts Me by Jake Runestad at the 2019 ACDA National Conference in Kansas, a 2019 Gala Concert with Eric Whitacre on Capital's Mees Hall stage, and a concert on Carnegie Hall stage on March 8, 2020.
---
Capital Bands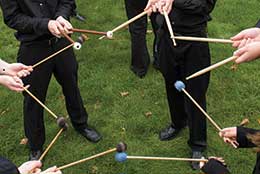 While the tradition of student-organized music at Capital dates back to the 1860's, musical study on campus became formalized in 1918 with the creation of the Department of Music. Informal concert bands were organized as early as 1889, with Harold John Grimm being named the University's first recognized Director of Bands in 1922. In the century that followed, Capital has frequently hosted nationally and internationally recognized guest composers and guest conductors. Guest composers have included Howard Hanson, Lukas Foss, Karel Husa, David Maslanka, Michael Daugherty, Eriks Esenvalds, Jake Runestad, John Mackey, Eric Whitacre, and Frank Ticheli. Guest conductors have included William Revelli, Ray Cramer, Paula Crider, and Craig Kirchhoff. More recently, the Capital Bands have demonstrated a strong commitment to new music, either leading, or participating in, consortia to commission composers such as John Mackey, Clint Needham, Jake Runestad, Alex Shapiro, and Jess Langston Turner.
The Capital University Symphonic Winds, under the direction of Dr. John Climer, is the premier wind band in the Conservatory of Music. The Symphonic Winds perform programs that draw from the cornerstones of the wind literature, the finest contemporary works, and the rich and varied repertoire composed for chamber winds. Recent accolades include multiple awards in the College/University Division of The American Prize in Band Performance, earning 3rd Place and 2nd Place award. The Symphonic Winds was awarded The American Prize Ernst Bacon Memorial Award for the Performance of American Music in the College/University Ensemble Division.
Outside of their campus concerts, the ensemble has toured throughout the United States and abroad and has earned frequent invitations to perform at professional conferences. Appearances have included the multiple performances at College Band Directors National Association North Central Division Conferences, the Ohio Music Education Association Professional Development Conference, and a weeklong tour of Taiwan.
---
Capital Big Band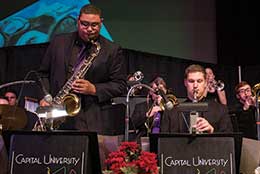 The 18-piece, award-winning Capital University Big Band is an experience designed for you to hone your skills in big band playing, style, improvisation and more while expanding your understanding of the large ensemble tradition. Performing a wide range of repertoire from such artists as Duke Ellington, Count Basie and Thad Jones along with contemporary music written to push the boundaries of the ensemble, the Big Band represents some of the finest musicians within the Conservatory. An unforgettable musical experience for our students, the Big Band was featured at the Jazz Education Network Conference in New Orleans as well as frequent intercollegiate jazz festivals and our very own annual Jazz and World Music Festival.
---
Rock Ensemble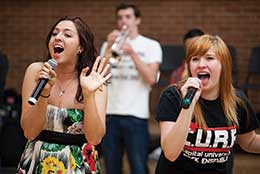 Known as the Capital University Rock Ensemble, or C.U.R.E., this group performs a blend of rock, jazz, country, and pop music. With multiple singers and a full horn section, C.U.R.E. keeps the beat at several indoor and outdoor performances with its renditions of classic and contemporary rock hits. If you're interested in auditioning, contact the director, Tom Davis.
---
Capital Orchestra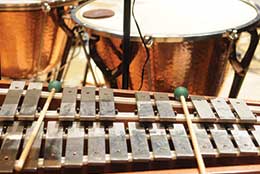 Jim Bates directs the Capital/Otterbein Orchestra, which includes Capital's best student instrumentalists and accomplished community and professional musicians from around Columbus. The orchestra also frequently features guest soloists of national prominence.
Search Over 40 Capital Ensembles
Capital University Rock Ensemble (C.U.R.E.)
Known as the Capital University Rock Ensemble, or C.U.R.E.
If you're interested in auditioning, contact the director, Tom Davis.
Piano Ensembles
Piano Chamber Ensemble - Tianshu Wang
Collaborative Performance - Tianshu Wang
Instrumental Choirs
Flute Choir - Lisa Jelle
Clarinet Choir - Gail Zugger
Trumpet Choir - Lance Witty
Horn Choir - Kim McCann
Trombone Choir - Tony Weikel
Tuba Thunder - Tony Zilincik
Bassoon Monsoon - Betsy Sturdevant
Instrumental Chamber Ensembles
Flute Ensembles - Lisa Jelle
Horn Ensemble - Kim McCann
Clarinet Quartet - Gail Zugger
Saxophone Quartet - Michael Cox
Trombone Quartet - Tony Weikel
Tuba Quartet - Tony Zilincik
String Ensemble - Joseph Mueller
Brass Quintets - Lance Witty, Tony Zilincik
Woodwind Quintets - Gail Zugger, Lisa Jelle
Ensemble Now - Tony Zilincik
Concert Percussion Ensemble - Julie Licata
Ethnic Percussion Ensemble - Julie Licata
World Music Ensemble - Eric Paton
Instrumental Major Ensembles
Capital/Otterbein Orchestra - Jim Bates 
Symphonic Winds - John Climer
Wind Symphony - John Climer
Chamber Percussion Ensemble - Ryan Kilgore
Jazz Ensembles
Big Band - Zakk Jones
Lab Band - Roger Hines, Alex Burgoyne
Birdland Ensemble - Stan Smith
Vanguard Ensemble - Roger Hines
Jazz Percussion Ensemble - Eric Paton
Jazz Guitar Ensemble - Tom Davis
MIDI Band – Paul Kavicky
Vocal Ensembles
Capital University has several performing groups to offer our students who love to sing. Ensemble membership is open to all Capital students by audition, regardless of major. In fact, choir members represent nearly every major offered at Capital! Participation in a performing ensemble for three semesters satisfies the university's General Education Fine Arts requirement. Why not do you something you love, and fulfill a course requirement at the same time?
Chapel Choir - Lynda Hasseler
Choral Union - Lynda Hasseler
Capital Cantabile - Libby Hainrihar
Capital Consort - Chad Baker
Philomel Chamber Vocal Ensemble - Lynda Hasseler
Opera/Musical Theatre Workshop - Andrew Ryker