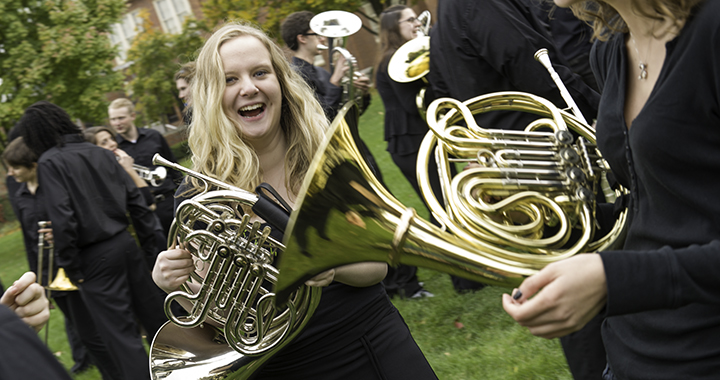 The Complete Band Director Workshop
June 14 – 17, 2022
This is a comprehensive workshop for elementary, middle school, junior high, and high school instrumental music teachers.
To meet the challenge of establishing a well-balanced instrumental music program, we need to expose our students to a variety of instructional and performance opportunities. For the first-year teacher to the seasoned pro, this workshop is designed to enhance the positive experiences of dealing with the concert band, marching band and jazz band.
A workshop featuring practical solutions for today's instrumental music teacher.
Reserve your seat now by registering online.
Enrollment is limited to 60 participants.
The deadline for registration is June 5th. After this date, you will need to call Jim Dowdy at 614.580.7220 or 614.855.9706 to find out if openings are available.
Workshop Fees
The fee for attending the workshop is $250.
The workshop fees must be paid online.
Credit Fees
(If needed, you will choose one)
2 semester hours of Graduate level credit: $320 transcripting fee (in addition to the $250 workshop fee).
You may also take this workshop to earn credit toward Capital's Master of Music Degree in Music Education for a fee of $1340 (Note: The $250 workshop fee will be waived). Call Jim Dowdy at 614.580.7220 or 614.855.9706 if you are interested in this program.
PLEASE NOTE: Graduate credit fees can be paid online through the registration form, or they will be billed to you by Capital's Student Accounts office upon registration.

Please mark on your online application which type of credit you are interested in, and we will send you the necessary forms to fill out in advance of your arrival.Once you have filled out the online application and paid your workshop fees, you will receive notification by email that you are officially registered for The Complete Band Director Workshop. Additional materials (letter, map, syllabus, graduate credit forms, schedule, etc.) will be sent by email in advance of the workshop.
For more information about the workshop, contact Jim Dowdy at jdowdy@capital.edu or JiMuzik@aol.com, or text 614.580.7220.
Complete Band Directors Workshop - Tentative Schedule
Randall Standridge
Reading Session Ask OMEA - open panel Q&A
| | | | | |
| --- | --- | --- | --- | --- |
| 2022 | Tue, June 14 | Wed, June 15 | Thur, June 16 | Fri, June 17 |
| 8:30 - 9:30 AM | Alfred Watkins | Steel Drum | Randall Standridge | Jaz Education |
| 9:40 - 10:40 AM | Recovering from COVID | Jay Wardeska - OMEA Executive Director | Repair Session #1 w/Rob Phillips | Women in Jazz |
| 10:50 - 11:50 AM | Technology | Adjudicated Events | Randall Standridge | Reading Session |
| 12:00 - 1:00 PM | Lunch | Lunch | Banquet | Wrap-up |
| 1:00 - 2:00 PM | RS Marching Band/Stanton's | RS Brian Stevens/Stanton's JH | RS Randall Standridge | - |
| 2:10 - 3:10 PM | Sound Before Sign: Audiation | RS Brian Stevens/Stanton's HS | Repair Session #2 w/Rob Phillips | - |
| 3:20 - 4:20 PM | Alfred Watkins | Jim Swearingen Meet the Composer | - | - |
| 4:30 - 5:30 PM | - | - | TBD | - |