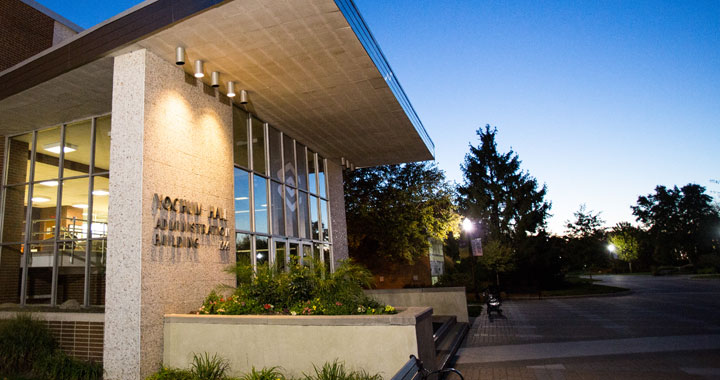 Teaching & Learning Spaces
We're not the college on the hill, even though we have just as much history and tradition. Capital University is a picturesque, urban campus situated on 54 acres in the Columbus, Ohio, community of Bexley. Our buildings and residence halls are made of bricks and mortar, but on the inside, our living and learning spaces have all the modern comforts and new technology you could possibly need.
Throughout campus, our facilities embody the mission of the university, supporting and enhancing teaching and learning, and the development of our students — academic, personal and social. From classroom buildings and administrative offices to residence halls and labs, campus facilities have been designed with our students in mind, and consistently maintained to ensure their safety, comfort and successful learning experiences. And fun. We can't forget fun.
---
Battelle Hall
Battelle Hall is located on the corner of Main Street and Pleasant Ridge Avenue and contains classrooms and teaching and research laboratories used by our students and faculty. Our teaching labs encourage inquiry-based exploration using our visualization and computational facilities, greenhouse and specialized scientific equipment. All of this equipment is used by our undergraduate students in their coursework and under faculty supervision for student-centered research projects. We also take advantage of many of the local resources within Columbus and the Central Ohio region. These include numerous MetroParks, COSI science center, Franklin Park Conservatory, Columbus Zoo and Aquarium, and many other state and federal facilities.
Eight laboratories in the Battelle Hall of Science are used for biology teaching and research. In addition, several small lab facilities, an animal care facility and a two-story greenhouse are available to be used for faculty and student research. All labs are equipped with technology as well as equipment and models specific to the courses and projects that take place in that room. A state-of-the-art molecular biology laboratory allows students to grow living cells under controlled conditions, while the biochemistry lab has equipment to perform DNA fingerprint analysis. Two cadavers are stored and used in the anatomy lab, and the botany lab opens directly into the second story of the greenhouse.
Battelle 231 Laboratory
The Anatomy Laboratory
The anatomy laboratory is equipped with two human cadavers, a variety of anatomical models, and advanced computer visualization software to help students learn vertebrate anatomy.
The Botany Laboratory
The botany laboratory contains thousands of specimens and includes a two-story greenhouse used for teaching and research. The general biology lab contains both freshwater and marine aquaria as well as biologic specimens for macro-scale and microscopic analysis.
The Chemistry Laboratory
The Greenhouse
Our two-story greenhouse contains an abundance of different biomes including temperate rain forest, temperate forest, woodland, grassland and savanna. It even includes aquatic species in a small pond environment. All of this botanical species are used within the biologic courses for teaching and research purposes.
Fuld Laboratory
Geologic and Environmental Science Laboratory
The geologic and environmental science laboratory contains thousands of rock and mineral specimens, and paper and computer generated maps (GIS software) used to examine local and regional features. A reading and study room is maintained with many current biological and scientific journals for student use.
Battelle Visualization Laboratory
The Battelle Visualization Laboratory is located in Battelle Hall and operated by the Center for Computational Studies. This cutting-edge facility is devoted to the teaching and learning of Computational Studies, an interdisciplinary field that combines mathematics, computers and science and made possible through the generous gift of Battelle Memorial Institute.
The Advanced Computational Laboratory
The Advanced Computational Laboratory is housed in Battelle Hall and managed by the Mathematics, Computer Science and Physics Department. Faculty and undergraduates use this state-of-the-art facility to perform different types of complex computations, including:
Symbolic
Numeric
Graphical
Visualization
Parallel
The McCrystal Laboratory
The McCrystal Laboratory for Behavioral Research psychology is a teaching facility that houses up to 60 animals (rats) and is equipped with a foraging arena, a radial arm maze, a running wheel and operant chambers. Students assist faculty with research and conduct their own independent studies on learning, memory, decision-making and choice behavior.
The Language Lab
Learning a foreign language is an ongoing process. You build oral comprehension and expression by using the language in different settings. You fine-tune your pronunciation by listening and responding to audio tapes, your classmates and your professor. You develop reading and writing skills through structured activities. There aren't enough regular classroom hours to do all this and do it well. And that's where Capital's high-tech Language Lab comes in.
The Cell and Molecular Biology Laboratory
This lab has of state-of-the-art equipment, including a fluorescent microscope. Typical activities in this lab include, growing cell cultures and studying the effects of environmental factors on cell function and reproduction.
---
Blackmore Library
Media Classroom
Television Studio
Capital University's TV facility is equipped to produce video projects in and out of the studio using digital and analog equipment. The in-house TV studio includes a professional news set, telePrompter, and three Panasonic 200 CLE cameras. For on-location shoots, there are seven field cameras. Five are Sony 3CCD Mini-DV digital camcorders. Two others are Panasonic 3CCD S-VHS camcorders. A variety of microphones (lavs, handhelds, and wirelesses), two lighting kits, and five single camera-mounted lights (one for each digital camcorder) enable students/staff/faculty to shoot broadcast-quality video and audio.
The TV facility also houses five Non-Linear editing systems (Avid Xpress Pro, version 4.6 which run on Windows XP Professional), three Linear editing systems (2 Panasonic AG-7650 S-VHS, 1 Panasonic AG-350 S-VHS), two video switchers (EchoLAB 2500; Videonics Digital Video Master), one character generator (PcScribe Chyron), and a 24 input channel audio board (Mackie 2404) and a 12-channel Mackie mic/line mixer.
The Schumacher Gallery
The Schumacher Gallery's Permanent Collections offer a wonderfully diverse selection of more than 2,500 works for study and enjoyment, including works from the 16th to 19th centuries, Asian, Modern and Contemporary, ethnic, graphics and Inuit art, and works of Ohio artists. These collections encompass 2,000 years of cultural history. Since the Gallery's inception in 1964, hundreds of donors have provided objects of art, funds, and services to create this important cultural legacy.
---
The Capital Center
The Capital Center Athletic Facility
The Capital Center is a 126,000-square-foot recreational and athletic complex that includes a 2,100-seat arena, a 3,000-seat Bernlohr Stadium, a 51,000-square-foot multipurpose forum, a 5,000-square-foot fitness center, and a multitude of offices, classrooms and hospitality areas.
Athletic Training Room
Located in The Capital Center, the athletic training room is equipped with various therapeutic modalities, eight treatment tables, 20-foot taping counter, a physician's office and a hydrotherapy room. The athletic training room serves as an on-campus hands-on laboratory for students enrolled in the Athletic Training Education Program. The athletic training room is also the location for the health care for over 300 student athletes.
Health and Sport Sciences Laboratory
Located in the Capital Center, the laboratory for health and sport sciences is equipped with a Burnlick T500 Stress Testing System, Monarch 884E Sprint Bike, I Works Gas Analyzer, Shuttle MVP, treadmill and additional pieces of rehabilitation and wellness screening equipment. The laboratory is used for instruction and internships as well as clinical practice.
---
Conservatory of Music
Music Technology Laboratory
The Conservatory of Music Facilities
During 1991 and 1992, the Capital University Conservatory of Music underwent a $6.4 million renovation, providing a state-of-the-art environment for the study of music by Conservatory students, as well as outstanding performance facilities for Central Ohio.
The Conservatory's on-campus equipment includes a full complement of instruments and computers, an electronic music studio, an electronic piano/computer room, a music education curriculum laboratory and several rooms with practice pipe organs. In fall 2005, the Paul W. and Ella D. Hugus Memorial Pipe organ was dedicated in Mees Hall. The three-manual, 70-rank organ boasts more than 4,000 pipes and was designed and constructed especially for the hall and the requirements of a pipe organ within an academic environment.
---
Harry C. Moores Student Union
The recently renovated hub of student life outside the classroom functions as place to gather, to relax and to enjoy being part of the Cap Family. It incorporates comfortable, flexible lounge space for residential and commuter students with computer access and high-definition television, a contemporary coffee bar and restaurant. Home to the Diversity and Inclusion Office, Student and Community Engagement, Residential and Commuter Life, International Education, Bookstore, Cabaret Theatre, Capital Court and other campus eateries, Student Government, Activities Management and Planning, The Mezz and more, it also features an interactive wall that invites international students, as well as Capital students studying abroad, to put Capital on the map and create a visual representation of the connections between the University, our students and the world.
---
Huber Spielman
Huber Spielman 30
WXCU Radio
WXCU, Radio Free Capital, was voted the "Best Student Run Internet-Only Radio Station" by the College Music Journal in 2007. The station is led by an all-student management team and features a commercial-style alternative format. The studio is equipped with the latest radio broadcasting technology, including both production and playback equipment currently on the air at broadcast stations in Columbus. 
This provides students with experience that translates directly into real world applications. It's available over the Internet at WXCURadio.com, on the campus cable system, and is featured in various campus locations. Additionally, the station hosts several concerts each academic year and supports the efforts of student groups campus-wide.
---
Kerns Religious Life Center
---
Renner Hall
The Eye-Tracking Laboratory
The Eye-tracking Laboratory allows students to conduct experimental research using a state-of-the-art eye tracking device.
Writing Computer Lab
---
Ruff Memorial Learning Center
Adult and Graduate Laboratory
Bridge of Learning
The modernization of Capital University's Metee Bridge of Learning transformed an inflexible and dated classroom into a learning showcase customized for classroom learning, multimedia presentations, famous people who give talks on campus and even Capital's Board of Trustees. The space now is a 120-seat auditorium enhanced with the latest audio/visual technology. Fixed and maneuverable seating facilitate lecture-style classroom teaching, as well as collaborative learning among student groups. Modern finishes, sloped seating and sophisticated visual equipment, including five projection screens, enhance the teaching and learning experience, and support accessibility.
All of this enhances presentations, allows the faculty to present material in a more vibrant, engaging way, and enables students to see, hear and experience lectures and collaborative work clearly and comfortably. This is not a small impact considering that the Bridge of Learning is now the Bexley campus's largest classroom and the space of choice for hosting guest lecturers.
Early Childhood Learning Laboratory
A classroom in the basement of the Ruff Memorial Learning Center has been renovated to resemble an early childhood classroom. This model classroom is equipped with flexible seating, SMARTBoard® technologies, and early childhood literature, math, science, social studies and art resources. This classroom provides education majors with a place that simulates a classroom, where they can practice teaching in a more authentic setting.
---
Troutman Hall