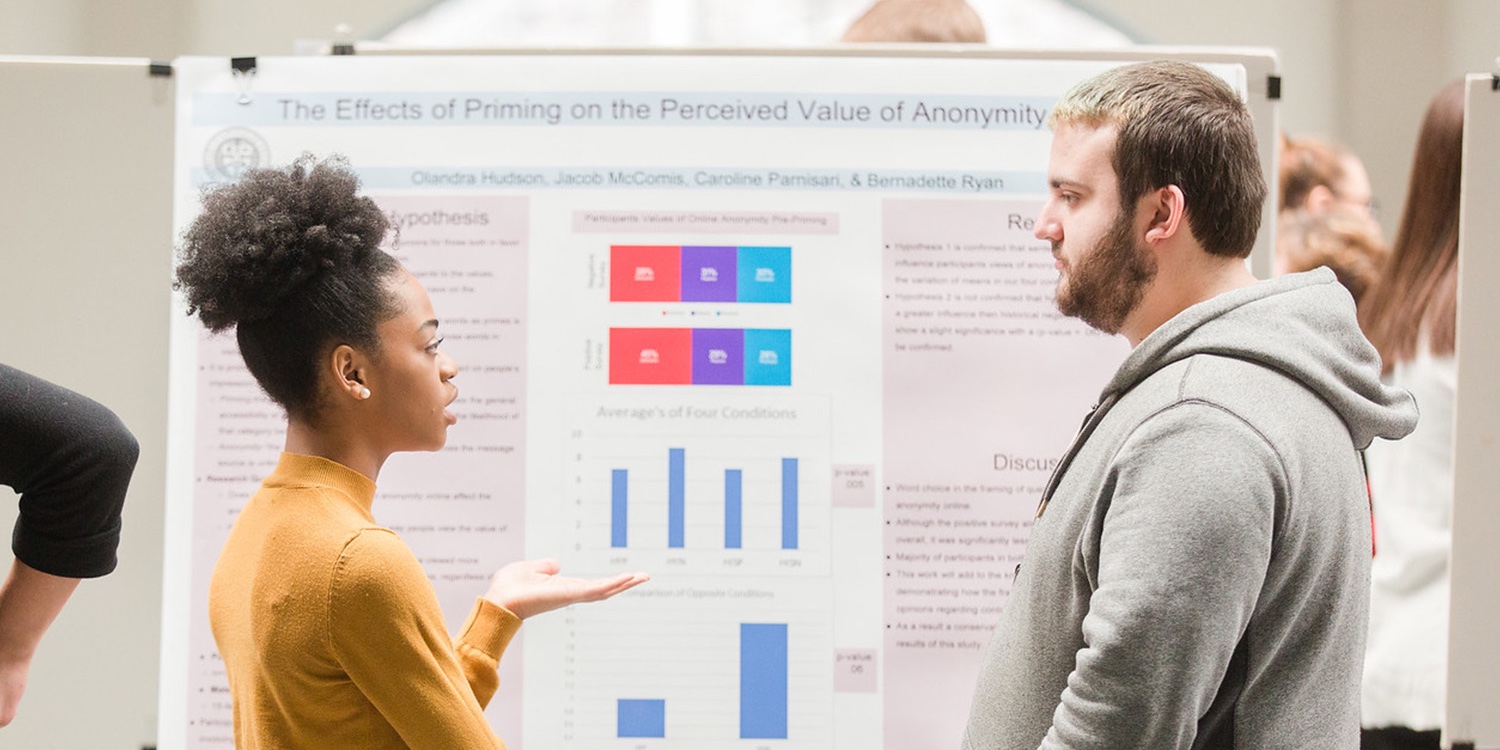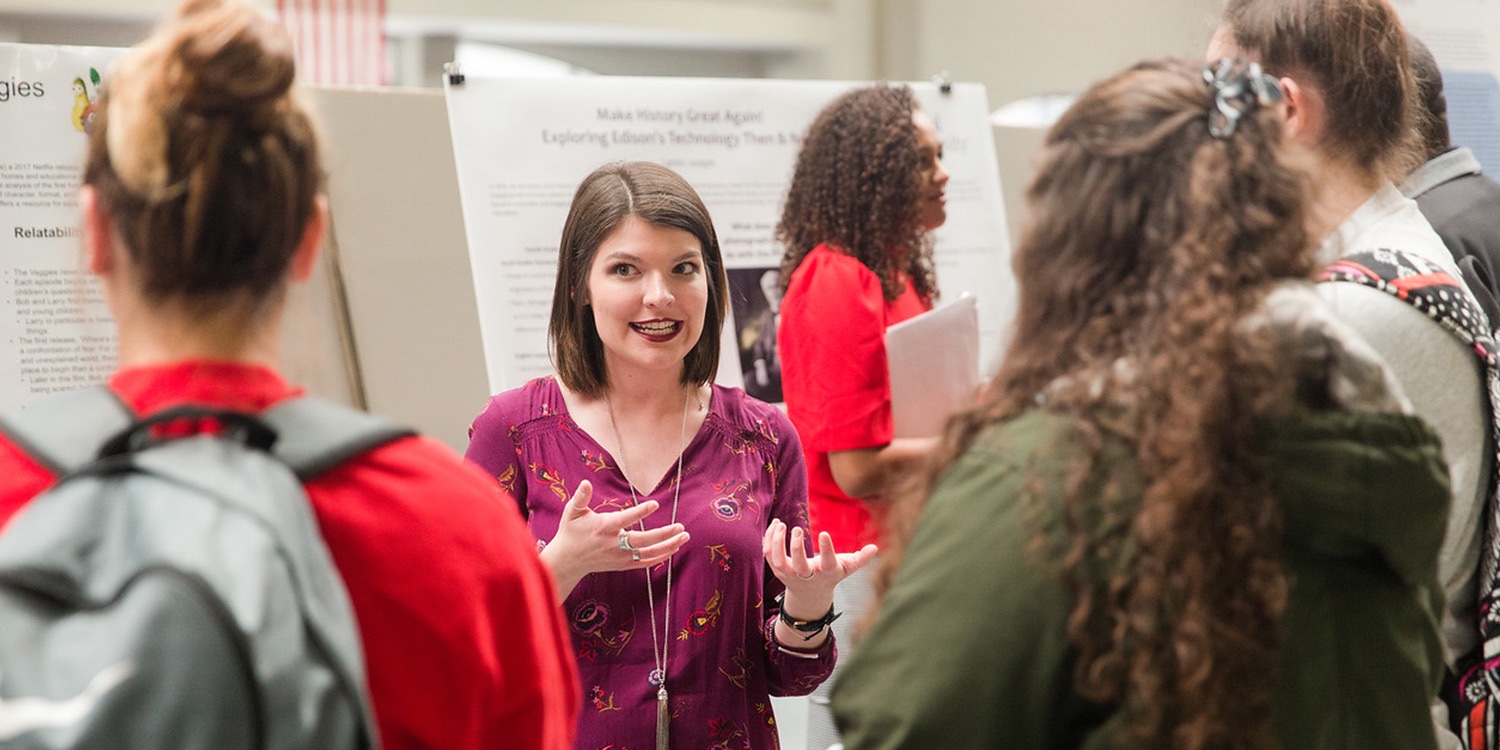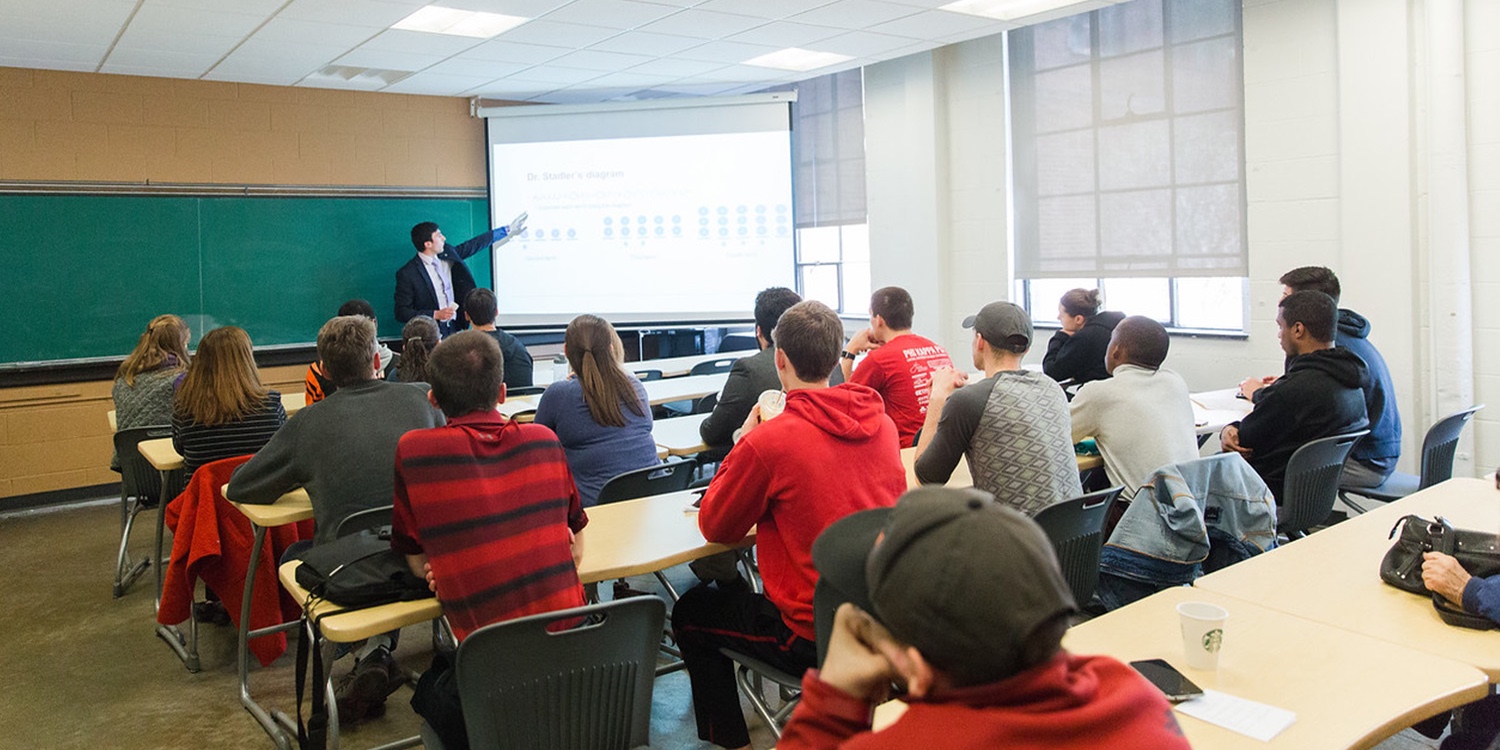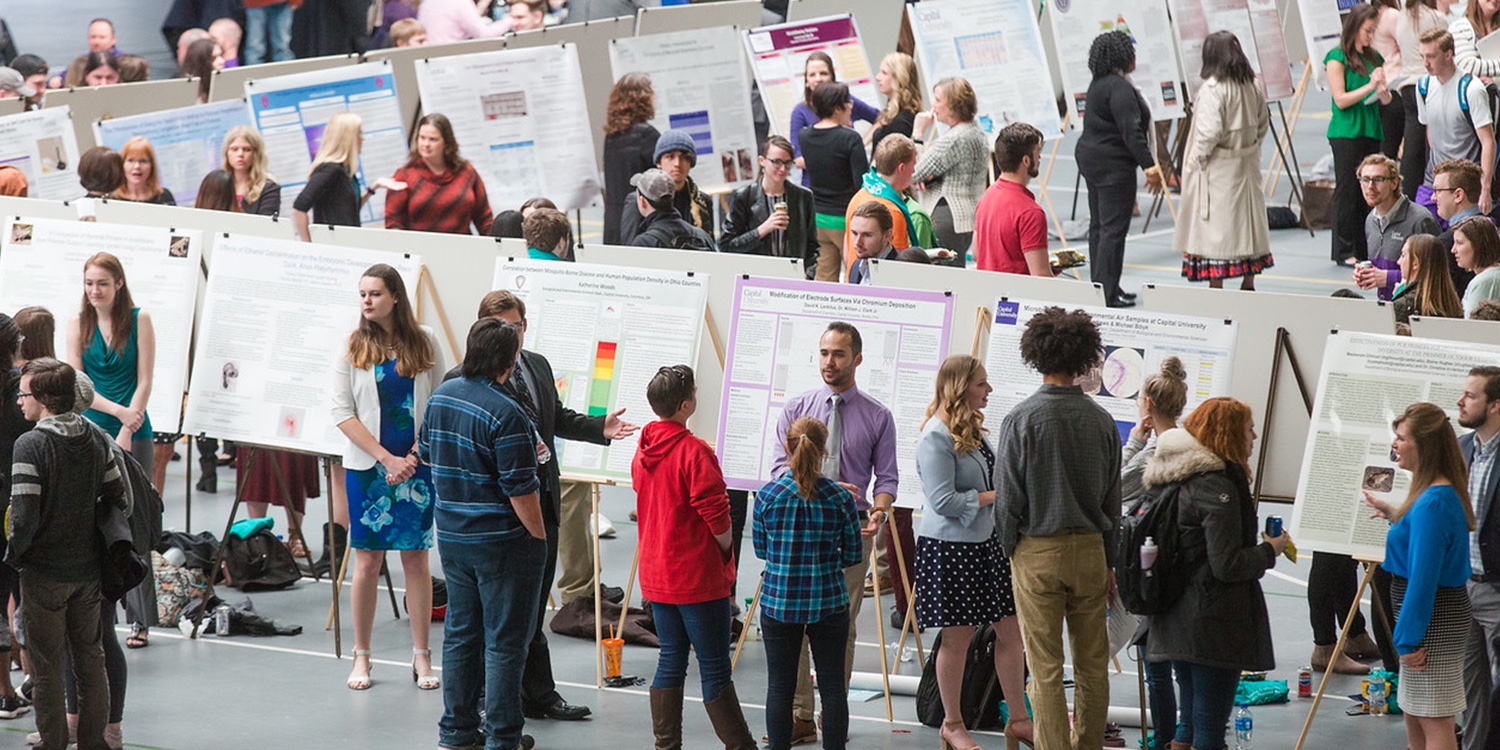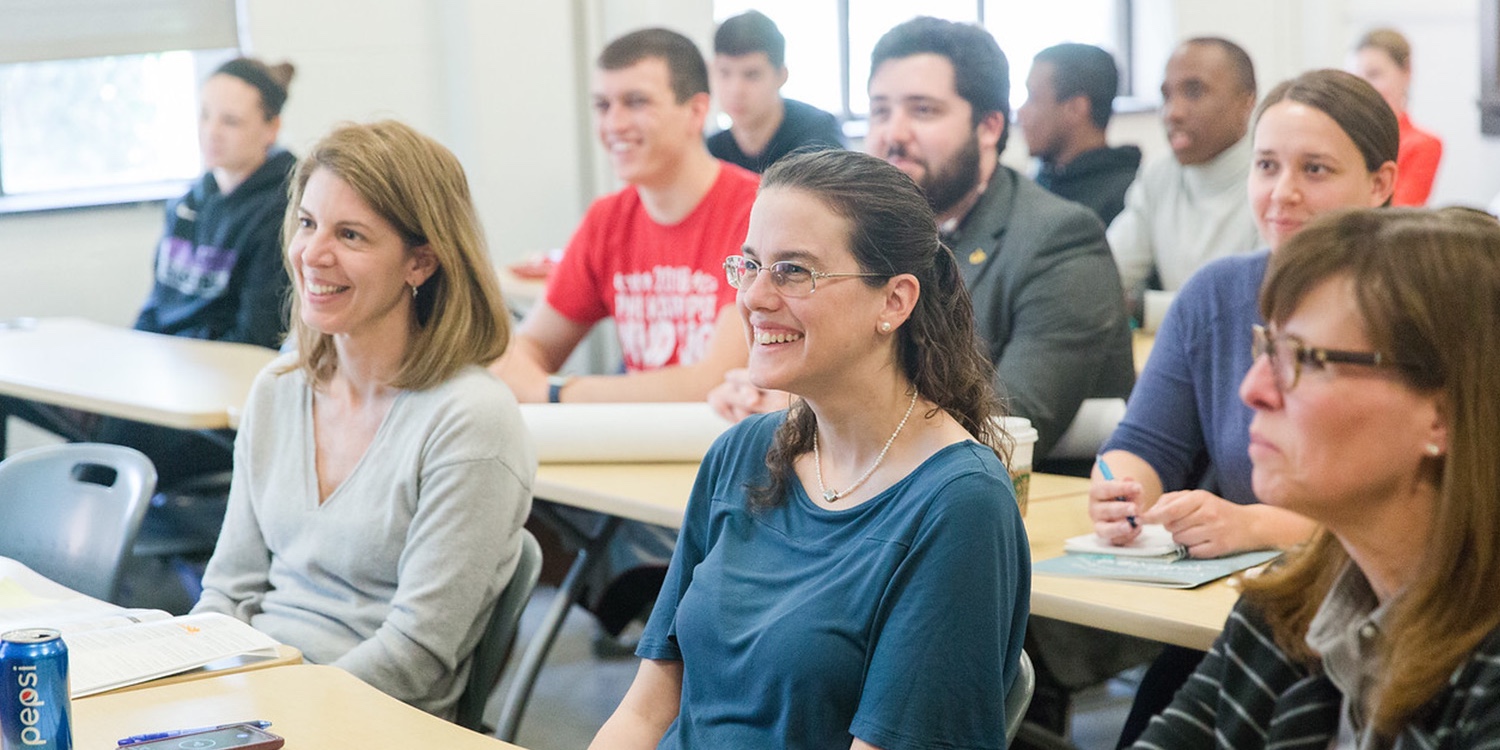 Research Symposium
Capital University celebrates its annual scholarship and research event that highlights students' original research projects and showcases their scholarship activities.
The 28th Annual Symposium on Undergraduate Scholarship and 8th Annual Graduate Research Forum will be held on Wednesday, April 17, 2024. The symposium features presentations from students in all majors.
Students nominated for the James L. and E. Marlene Bruning Undergraduate Research Award or the Diversity and Inclusion Research Award will be evaluated by the selection committee prior to the Symposium. Learn more about the Bruning Undergraduate Award and the Diversity and Inclusion Research Award including projects presented by previous award winners!
We begin this daylong celebration of student scholarship at 10 a.m. with Convocation, a ceremony recognizing select students for scholarship and leadership, and recognizing faculty and members for excellence in teaching, scholarship, and service to the University. 
Later that day, the Symposium on Undergraduate Scholarship and Graduate Research Forum will showcase the intellectual achievements of Capital students as they discuss their work in a formal setting through oral and poster presentations. Poster presentations will take place from 11:30 a.m. to 1 p.m. in The Capital Center. Oral presentations will be in Battelle Hall, Blackmore Library, and Ruff Learning Center from 1:30 to 4 p.m.
Are you a student interested in submitting your research?
Capital's Symposium on Undergraduate Scholarship is a great way to let your friends, family members and potential employers know about the work that you have done.
The deadline for submissions to the 2024 Symposium is 5 pm on Friday, March 8, 2024. 
The symposium is open to all undergraduate students and the forum is open to all graduate students, where student scholarship is broadly defined as:
Original empirical research, artwork, or creative writing
Integrative literature reviews
Performance pieces with commentary
Case study research projects
Scholarly critiques
Internships
Before your students submit their abstract to the symposium online, be sure that they have all of the information that they will need. 
In addition, Dr. Stephanie Gray Wilson will hold her annual abstract workshop for students on February 12, 2024 via Zoom. The link to the Zoom is https://capital.zoom.us/j/91239685872. Please encourage your students to take advantage of this opportunity.   
Directions for submitting research
Before you submit your abstract to the symposium online, be sure that you have all the information that you will need.
Title of your project
First author's name
First author's email address
First author's ID number
Names of additional authors (if any)
Email addresses of any additional authors
T-shirt sizes of all authors
Name of the faculty who supervised your work
Department of the faculty who supervised your work
Email address of the faculty who supervised your work
Abstract (100-200 words, written in PRESENT or PAST TENSE), which includes:

Introductory Statement (background info connecting your work to literature on your topic)
Purpose (what you were attempting to do)
Methodological Approach (how you conducted your project)
Findings (what you learned)
Contribution to Your Discipline or the Community (why your work is important)

The type of presentation that you will do (oral or poster)
Directions for symposium poster preparation - Spring 2024
All poster presentations will take place in the Field House of the Capital Center between 11:30 a.m. and 1:00 p.m. You are expected to stand next to your poster during this time to discuss your project with attendees. See attached document for complete presentation listing.
We have included some suggestions to prepare for your poster presentation.
Discuss your poster with your faculty mentor.
Please inform any coauthors who also will be presenting this work.
Print your poster by April 8th. You may either make your own poster or print your poster on the large printer in the Information Technology Center on the lower level of Blackmore Library (see details below).
On Wednesday, April 17th between 8:30 and 9:30 a.m., bring your poster to the Field House of the Capital Center.
If your research project was conducted as part of a Research Methods course and was not submitted to and approved by the IRB, you must include the following statement on your poster:
"This work was conducted as part of a Research Methods class, and it is not designed to contribute to generalizable knowledge."
Poster details:
Name your poster in the standard format: YYYYLastFLastF

E.g. A single author Jane Doe would name the file 2024DoeJ.pptx (or pdf etc.)
E.g. Three authors, Jane Doe, Mike Smith, and Lily Park would name the file 2024DoeJSmithMParkL.pptx (or pdf etc.)

Maximum dimensions for your poster should be 48 inches wide by 36 inches tall (you will need to use landscape format). Poster board, easel and clips will be provided on the day of the event.
To enhance readability of your poster, use at least a 48-point font for your title and author credits and at least a 24-point font for the text.
Before designing your poster sign in to iLearn and type Poster Printing into the search courses box and click go. Enroll into the Poster Printing course. Then after you have passed the course and created your poster call the Help Desk at 614-236-6508 to schedule a print time.
Questions? Contact the Symposium Planning Committee at symposium@capital.edu.
Important dates
Keynote Event
Tuesday, April 16, 2023
7 p.m. | Huntington Recital Hall

Picnic Lunch and Student Poster Session
Wednesday, April 17, 2023
11:30 a.m.-1 p.m. | Capital Center Field House

Student Oral Presentations
Wednesday, April 17, 2023
1:30-4 p.m. | Various Locations