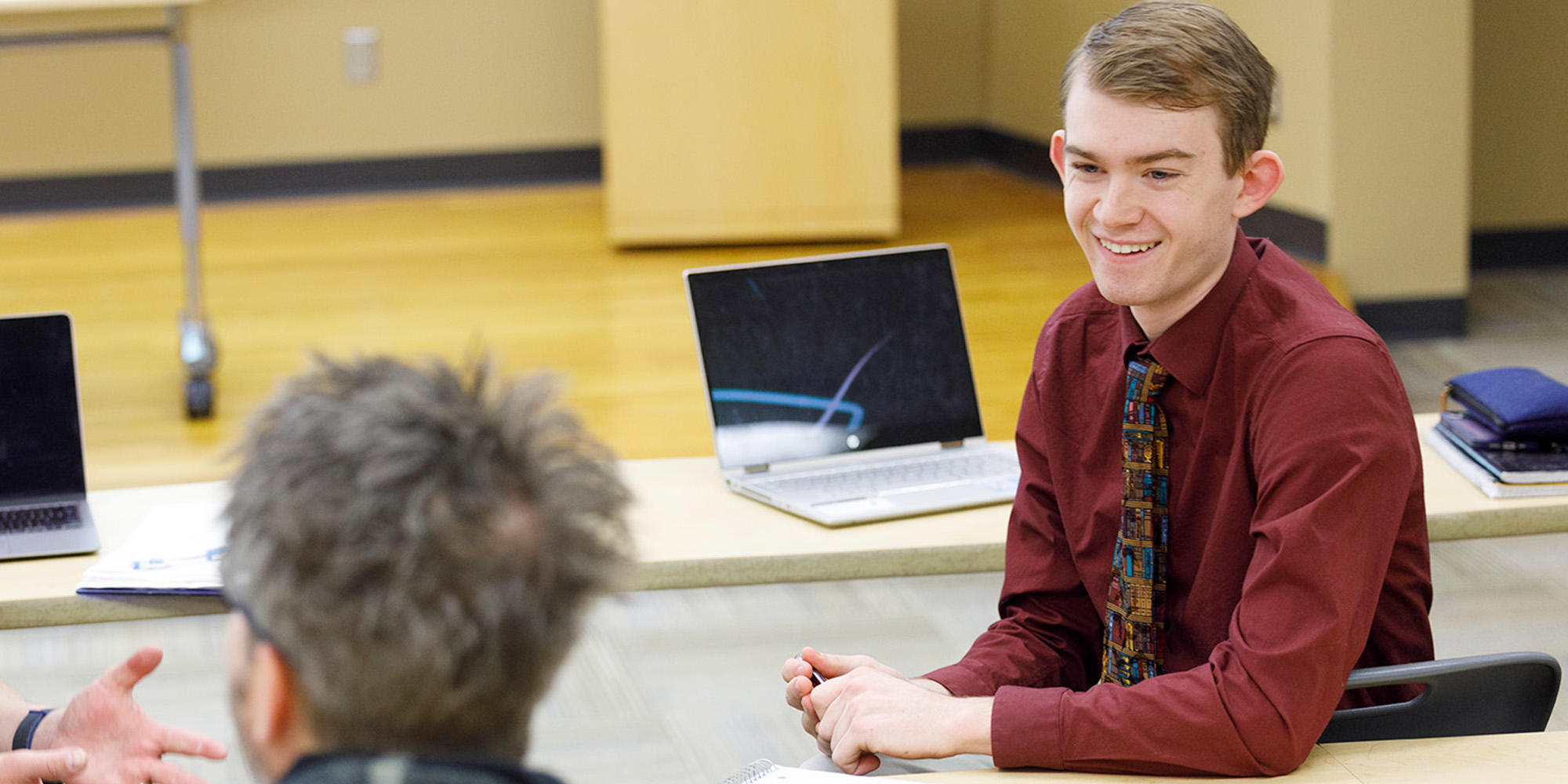 Economics
In economics there are two main areas of focus: macroeconomics and macroeconomics. Macroeconomics is the study of issues that guide economies like unemployment, inflation, budget deficit, interest rates, and trade. These variables are used to explain shifts in the economy and predict future market behaviors. Microeconomics is the study of individual markets like oil prices, wage differentials, and agricultural policies. These individual variables are examined for their influence on the market. A degree in economics opens up possibilities for work in a variety of careers from banking and utilities to health and finance or law. Economics graduates are highly valued for their aptitude for analytical reasoning, quantitative skill, and writing abilities.
What can you do with a degree in this academic area?
Banking and Finance
Insurance
Government and Public Service
Graduate Studies in Law, Business, or Public Administration
12:1
---
Student to Faculty Ratio
#5
---
Columbus Ranked #5 Best City for New Grads
Explore this Program
Experiential Learning
Because you will be earning your degree on a campus right next to our state capital, you'll have opportunities for front-row experiences in a progressive and vibrant market. Our students have opportunities for internships with local and national business, government, and non-profit organizations which add to your work experience and grow your professional network. In addition, Capital's annual Symposium on Undergraduate Research held each spring will allow you to explore and research an area of interest and then to present your work and original research to faculty, staff, and your peers.
Program Philosophy
The study of economics is a strong complement to Capital's liberal arts approach to general education. Your studies will encompass 66 hours of coursework, including the general education core. Added to that will be classes in additional areas that correspond with your interests. For example, if you are considering a career in finance or law, classes in accounting or political science can be added to your curriculum. The degree is flexible and can be customized based on what you want to achieve.
Economics – Political Science Combined
Economics – Political Science is a blended degree where students are introduced to both political science and economics concepts. Students learn tools that will help them research consumer behavior and analyze world and local events. Classes will focus on topics like inflation, trade deficits and money supply, as well as international relations and public policy. Students learn how these ideas intersect and influence one another. In short, this degree will prepare graduates to become well-educated citizens in the world and to contribute to improving societies in a variety of ways.
Where You'll Go
Some graduates enter the workforce immediately after graduation and work in banking, insurance, healthcare, government and more. Others go to graduate school to prepare them for careers as professional economists, law practitioners, business or professional administrators. If you are planning a career as a professional economist in the public sector, you will likely need a graduate degree. For work at universities or international organizations such as the World Bank or IMF, a doctorate degree is generally required.
Sample Classes
Macroeconomics Principles
Microeconomics Principles
Intermediate Microeconomic Theory and Practice
Intermediate Macroeconomic Theory and Money
Public Finance
Environmental Economics
History of Economic Thought
"I remember walking onto campus for the first time and seeing students sitting around and studying at the fountains. What made Capital unique was that students were talking to each other. That was the type of closeness that I wanted to experience at college. No school does family like Capital. The small class sizes gave me personal connections with all of my professors, and I have been successful in my studies because of this."
-Grace Day, Economics, Class of 2022