Capital University Christmas Festival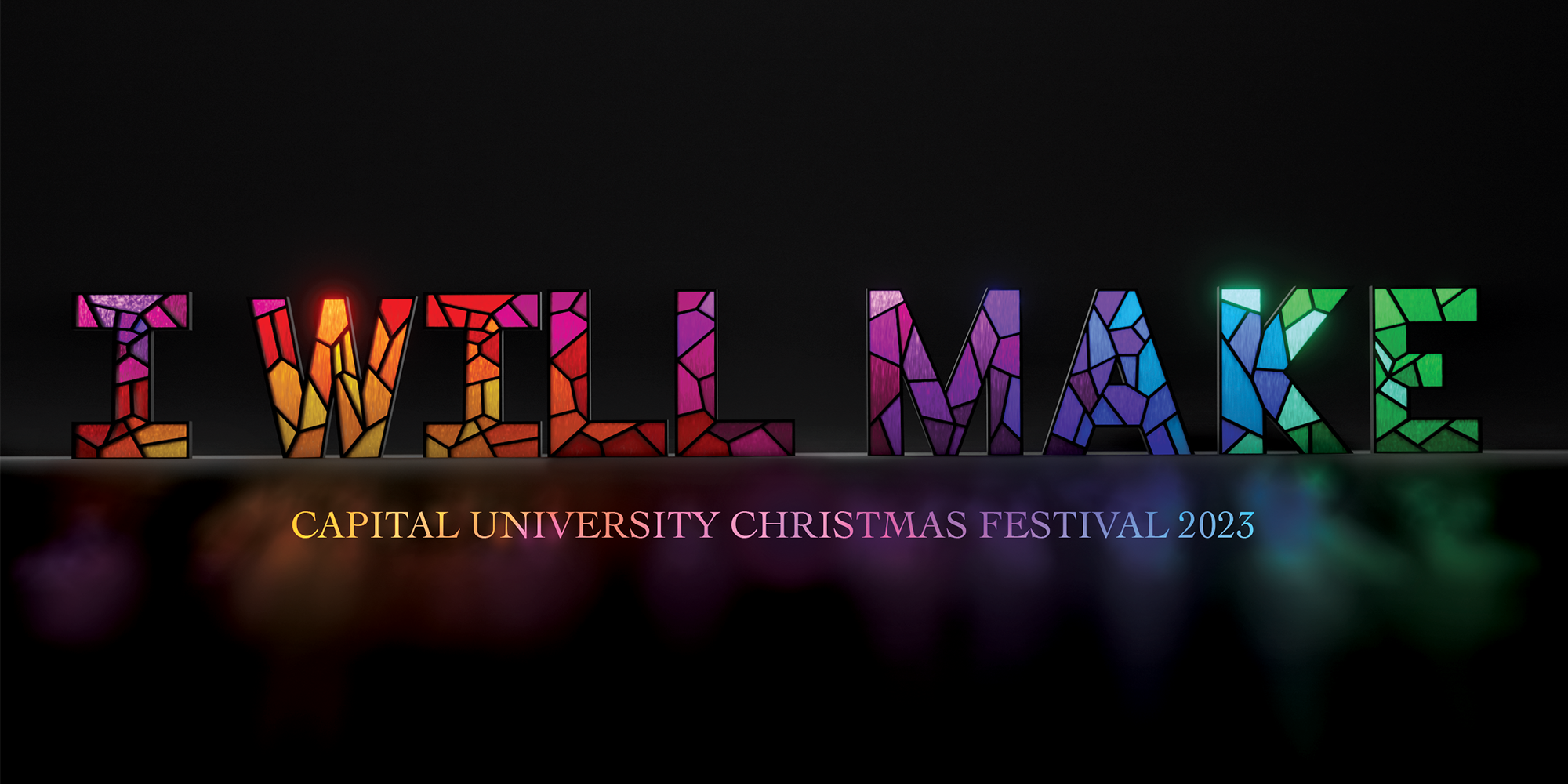 Capital University Conservatory of Music will present its annual Christmas Festival with in person concerts featuring the Chapel Choir, Choral Union, Cantabile, Consort, and a variety of instrumentalists. This festival is a long-standing holiday tradition enjoyed by the university, its friends and the greater Columbus community. Dates and concert times below. All performances will be in Mees Hall, Capital University.
Purchase Your Tickets Now!
Christmas Festival 2023 Dates and Times
Thursday, November 30, 7:30 pm
Need help? Our How-To Guide can aid you in purchasing your tickets!
Performance Questions
WHAT TIME DO THE DOORS OPEN AT MEES HALL AUDITORIUM?
The doors open 30 minutes prior to the start of each performance: at 7:00pm on Thursday, Friday and Saturday evening and at 3:00pm on Sunday afternoon. 
HOW LONG ARE THE PERFORMANCES? IS THERE AN INTERMISSION?
The performances are approximately two and a half hours long with no intermission.
ARE RESTROOMS AVAILABLE IN THE CONSERVATORY?
Yes. Please arrive early since restroom lines can be long. They are in the hallway between Mees Hall lobby and Huntington Recital Hall lobby. 
ARE THERE HANDRAILS ALONG THE STAIRS IN THE ELEVATED SEATING AREAS? HOW TALL ARE THE STAIRS?
Yes, there are handrails. The stairs are shallow (about 6" high). Please note that there are no handrails in the balcony area. 
Tickets & Ticketing Questions
WHEN DO TICKETS GO ON SALE?
The tickets for Capital University's Christmas Festival will go on sale in early November.
IS THERE A LIMIT TO THE NUMBER OF TICKETS I CAN PURCHASE?
DO I HAVE TO ORDER MY CHRISTMAS FESTIVAL TICKETS ONLINE?
Yes, all ticket sales will be available through an online system. Please visit  www.capital.edu/christmasfestival to purchase your tickets. If you require further assistance to complete your purchase, please call (614) 236-6474 at anytime between 9:00am - 4:30pm, Monday - Friday.
HOW DO I ORDER TICKETS ONLINE? WHAT ARE THE STEPS TO COMPLETING AN ORDER ONLINE?
We will provide detailed step-by-step instructions for ordering tickets when they become available for purchase in November.
MAY CHILDREN ATTEND THE CHRISTMAS FESTIVAL PERFORMANCES?
Due to the length of the concert, we welcome children age 6 and older to the Christmas Festival performances. 
HOW ARE THE TICKETS I PURCHASED DELIVERED TO ME?
Electronic tickets will be sent to the email address provided at the time of checkout. Please ensure that your inbox is able to accept incoming messages, and be sure to check junk and spam folders if you do not receive your tickets in an email after you make your purchase. You may email christmasfestival@capital.edu if you need assistance or special accommodations.
MAY I EXCHANGE MY TICKETS OR RECEIVE A REFUND?
Tickets cannot be exchanged or refunded. If you wish to return tickets you cannot use, please email christmasfestival@capital.edu or call (614) 236-6474 as soon as possible. Unused tickets may also be turned in to the Mees Hall ticket office up to one hour prior to each performance. 
WHAT DO I DO IF I LOST MY TICKETS?
CAN TICKETS BE SHOWN ON A SMARTPHONE WHEN THE DOORS OPEN?
Yes. They can also be printed prior to your arrival and scanned at the door.
General Questions
WHAT IS THE BEST WAY TO CONTACT CAPITAL UNIVERSITY WITH QUESTIONS ABOUT THE CHRISTMAS FESTIVAL?
If possible, please contact us by email (christmasfestival@capital.edu). Otherwise, you call (614) 236-6474 during 9:00am - 4:30pm, Monday - Friday.
WILL THERE BE A LIVE STREAM OF THE CONCERT THIS YEAR?
No, at this time, we are not planning to livestream the Christmas Festival concerts.
ARE CDS OF PREVIOUS CHRISTMAS FESTIVALS AVAILABLE FOR PURCHASE?
Yes. CD recordings of previous Christmas Festivals may be purchased after every concert or by calling 614-236-6116.
WHERE SHOULD I PARK ON CAMPUS? IS HANDICAPPED PARKING AVAILABLE?
Please see our map of on-campus parking (PDF) for details.
The largest and closest parking area available (F7 on the map)  is across the street at the Trinity Lutheran Seminary parking lot, just past the intersection of College Avenue and Main Street. 
Another large parking area (F3 on the map) with several handicap parking spaces may be found just past Mound Street on College Avenue. 
If you are driving south on College Avenue from East Main Street, The Trinity Seminary Lot (F7) will be on your right, and lot F3 will be on your left.
MAY I DROP OFF MY FAMILY/FRIENDS AT MEES HALL AND THEN PICK THEM UP AFTER THE PERFORMANCE IS OVER?
Yes, absolutely! The drop-off is adjacent to Huber-Spielman Hall, near the H2 designation on the map of on-campus parking (PDF).