Schedule appointments online, or Drop In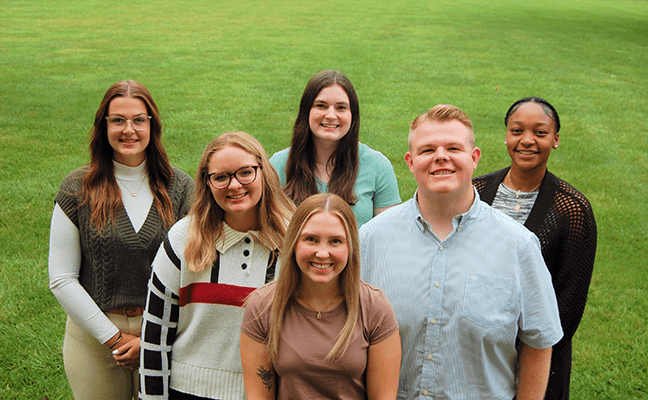 Schedule your own appointment!

You can schedule an appointment with Career Development staff through Handshake.
Watch the YouTube Appointment Video, or follow these directions:
Go to the Handshake login page
Log in with your Capital email and the password you created
Click on "Career Center" at the top of your computer screen (or click on "Account" on the bottom of your mobile device screen, then select "Career Center"), and select "Appointments"
Click on "Schedule a New Appointment"
You can also contact us directly at 614-236-6606 or email us at careerdevelopment@capital.edu to schedule an appointment. 
Drop In
It's okay to ask for help. Our staff are trained to assist you with a variety of career needs, from reviewing and revising your résumé, to helping you write the perfect cover letter, to assisting with your job and internship searches.
Our peer career advisors are available during the times listed below.
Drop-in Schedule for Career Development – Fall 2023
| | | | | | |
| --- | --- | --- | --- | --- | --- |
|   | Monday | Tuesday | Wednesday | Thursday | Friday |
| 9–9:30a.m. | Staffed | Staffed | Staffed |   | Staffed |
| 9:30–10a.m. | Staffed | Staffed | Staffed |   | Staffed |
| 10–10:30a.m. | Staffed | Staffed |   |   |   |
| 10:30–11a.m. | Staffed | Staffed |   |   | Staffed |
| 11–11:30a.m. | Staffed | Staffed | Staffed | Staffed | Staffed |
| 11:30a.m.–12p.m. | Staffed | Staffed | Staffed | Staffed | Staffed |
| 12–12:30p.m. | Staffed | Staffed | Staffed |   | Staffed |
| 12:30–1p.m. | Staffed | Staffed | Staffed | Staffed | Staffed |
| 1–1:30p.m. | Staffed | Staffed | Staffed | Staffed | Staffed |
| 1:30–2p.m. | Staffed | Staffed | Staffed | Staffed |   |
| 2–2:30p.m. | Staffed |   | Staffed |   |   |
| 2:30–3p.m. | Staffed |   | Staffed | Staffed |   |
| 3–3:30pm. | Staffed |   | Staffed | Staffed |   |
| 3:30–4p.m. | Staffed |   | Staffed |   |   |
| 4–4:30p.m. | Staffed | Staffed | Staffed | Staffed |   |
| 4:30–5p.m. | Staffed | Staffed | Staffed | Staffed |   |